I'm a proud 2004 ambassador. I like that it means that I'm expected to go out and do whatever I can to make education fairer for kids I taught, no matter what role I am in. But I get that the term feels 'cringy' and 'cult-like' to some. It's hard to know how institutionally conditioned I have been, as I've worked at Teach First HQ for eight years. So I was genuinely interested to find out what my fellow, less-institutionalised ambassadors, felt about it.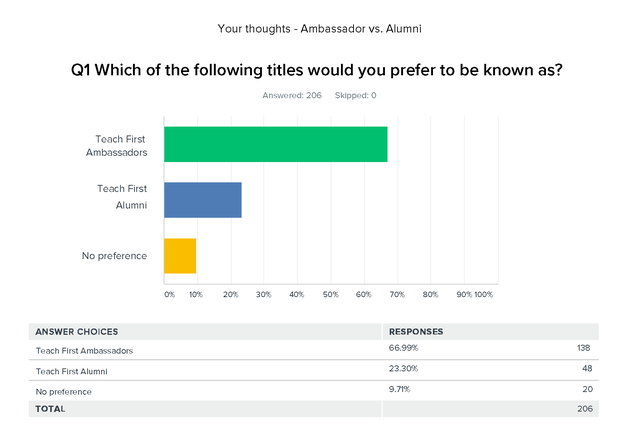 ​
206 of you kindly answered our survey on 'ambassador' or 'alumni'. You overwhelmingly prefer 'ambassadors'. Two thirds of you said 'ambassador', just under a quarter said 'alumni' and a few had no preference. So why was I asking, and what does this mean?
Teach First has launched its new strategy and is now looking at its brand. We'll be making some exciting changes to our 'look and feel' at the end of the summer. We've been trying to articulate what Teach First is and does using clearer and more compelling language. Leaving no stone unturned, we asked whether we continue to use the term 'ambassador' for those who've completed the two-year programme, or whether we change to the more universally-adopted term 'alumni'. It's not straightforward and there are good arguments on both sides. So, we wanted to hear the balance of opinion in the community, and how strongly people felt about it. Your comments brilliantly articulated the different dimensions of this question. Some of the hesitations you have with 'ambassadors' and the things you said in favour of 'alumni' were:
"TF ambassador doesn't mean anything to anyone unless you work for or have completed TF. Alumni brings it in line with other organisations e.g. universities."
"Ambassador is a bit pretentious to me. I feel alumni is more accurate."
"Ambassadors" is a term that implies a more active role promoting the TF programme. I would prefer to be known as "Alumni" and have the ability to opt-in to being an "Ambassador" if I wished to get involved with working with TF on promotion or supporting new cohorts."
However, the vast majority of you see real value in the term ambassador, neatly encapsulated by the first of these quotes:
"Part of something, rather than once part of it."
"I actively act as an ambassador for the programme - championing it, supporting it. I really dislike Alumni. Much of the criticism of Teach First in the profession comes from staff who see participants low retention rate after the programme. I think alumni to closely aligns with the paradigm (you do the programme, put it on your CV, the move on). As an ambassador, I feel it is my expectation to champion this amazing organisation throughout my career (I feel greater endearment for this than alumni status from undergraduate and post-graduate studies)."
"The term 'Ambassador' means I am still a part of Teach First; I haven't left it behind in the past. Ambassador implies that I am carrying the message and ethos of Teach First with me into every classroom, every school, every workplace and any future career path, regardless of whether that directly relates to education. I think this continuity of the Teach First values and mission is vital to challenging and eliminating educational inequality."
Following the survey and some further research, we had a lively debate in the Teach First executive committee. The different dimensions of the debate were explored in detail. And we decided to not only keep the term 'ambassadors' but to proudly re-invigorate it. Fundamentally the most important thing is not the name – it is that participants and ambassadors feel committed to the vision, feel connected to a dynamic movement for change and feel a personal responsibility to act to make a difference, whatever role they are in. And we've decided that the name 'ambassador' gives a stronger sense of this important intent than 'alumni'.
Thank you for your views and for helping shape this discussion.
Flora Letanka
Executive Director for Network Development, Teach First
2004 Ambassador