Heads Forward is a Teach First ambassador-led network, made up of current and imminent headteachers from schools across the country.
Heads Forward has three aims:
Individual support and development (wellbeing, pastoral and career development)
School improvement (pitches for support which lead to focused school visits)
External impact (influencing the wider education landscape)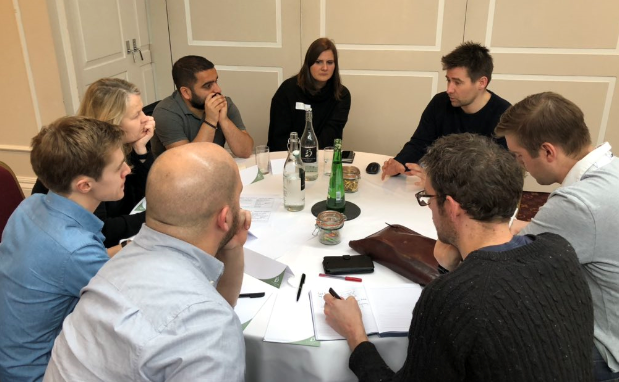 ​The network brings together 50 Teach First ambassadors who are in school leadership positions, creating a unique opportunity to maximise their impact within and between schools.
Want to join? Please see the end of this page for information on joining the Heads Forward Network.
The network
Key members of the network include Max Haimendorf, the youngest headteacher in England when he took up post ten years ago, and Amit Hathi, Principal of Wembley High School, achieving positive outcomes for some of the most disadvantaged pupils in the country year after year.
Heads Forward ambassadors lead schools across a vast range of different contexts. Izzy Ambrose in South Gloucestershire saw a phenomenal improvement in GCSE results within her first year of headship, to further south where Mike Wilson works to transform outcomes in opportunity areas such as in Dover.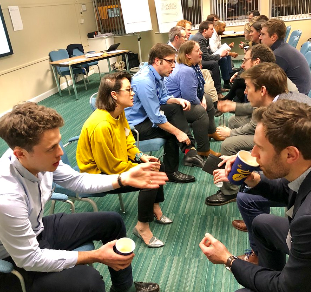 The Heads Forward network is co-chaired by Rebecca Cramer and Dennis Simms.
Rebecca began Teach First in 2006 in a school in Enfield, and after experience in a range of London schools went on to co-found Reach Academy Feltham in 2012.
Reach Academy was the first all-through free school in the country to be graded Ofsted outstanding in all areas and in 2016 their first GCSE results saw them ranked 16th of all schools in England. Rebecca is now Director of Education for the multi-academy trust having co-led the school as Secondary Headteacher for 6 years.
"The best part of chairing this network is that the level of peer-to-peer support and challenge is unparalleled because the stakes are so high - we all agree that if together we can each make our schools as good as possible then we can impact as many young people as possible and continue to tackle educational disadvantage." - Rebecca Cramer
Since joining the Teach First Programme in 2010, Dennis Simms is committed to providing opportunities for the most vulnerable and disadvantaged students in the East Midlands. He is specifically passionate about bridging the gaps between education and employment, and has pioneered a number of projects to bring real-world experiences to young people.
Dennis has cross-phase experience from secondary, Post-16 and more recently alternative education where he works directly with students whose needs have not been met through the mainstream model of schooling.
"I am so proud to have co-chaired Heads Forward since its launch in March 2018 and I am excited to bring strategic direction to the future of this unique and powerful network. As co-chairs we help to facilitate these incredible school leaders, who do amazing and challenging work every day. Seeing them come together with humility, compassion and wholehearted support for one another is an absolute pleasure to witness." - Dennis Simms
Be supported, and challenged
The network comes together three times a year with weekend residentials, in addition to face to face meetings or calls as needed throughout the year.
The weekend residential trips are a wonderful mix of informal networking and high quality professional development, and provide a safe place for Heads Forward members to be supported and challenged.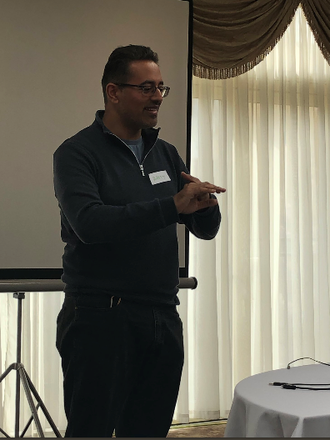 The network has evolved and will continue to do so with the fantastic input of its members. It is a community of peers who share a deep passion for educating all children and especially for ensuring the most disadvantaged receive an excellent education.
Members of the group have travelled up and down the country to carry out constructive visits and investigating specific school leadership areas as requested by other members. The network WhatsApp group is a fantastic place for support requests, advice and celebrations of each other's successes, and members are always just a phone call away.
Hear from the network
So what do ambassador headteachers get out of being part of the network?
"The Heads forward network has been an invaluable network for me and my school. A key aspect of the network is to share good practice which has undoubtedly helped me to initiate changes and improvements in my school. It is also a real pleasure working with such a committed and talented group of professionals." - Izzy Ambrose, Yate Academy
"Having a network of Teach First headteachers has been a fantastic opportunity to learn about all the brilliant things leaders are doing in their schools. In addition to our termly conference, groups of heads are visiting each other's schools to share good practice and offer advice and support. Aristotle put it best when he said that the whole is greater than the sum of its parts." - Chris Fairbairn, The Totteridge Academy
"Like minds, like schools has been the perfect combination to help me in my first headship role. Heads Forward has given me the safe space to share my leadership challenges and opportunities. Great bunch of values driven leaders where I can always get much help and advice. Priceless support!" - Katie Roberts, Da Vinci Academy
Join Heads Forward
We have new members joining the group all the time, and if you are an ambassador who is a headteacher or has recently been appointed as one we'd love to have you on board...
The next weekend residential will take place from Friday 28 June to Saturday 29 June 2019, and it would be a great opportunity to introduce new members to the rest of the network.
If you are interested in joining or would like further information please get in touch with Lucy Empson from the Teach First Network Development team.