The Teacher Development Conference supported by NatWest MoneySense, brings together leading thinkers in the education sector.
Designed for early-career teachers, it offers continued professional development sessions that will actively support and improve their pedagogical and leadership skills, ensuring that they have the best possible basis for improving their classroom practice and progressing into leadership within schools.
Reuben Moore, Teach First director of leadership, said:
"We're really excited to be in Leeds for a fifth year, using the fantastic Leeds Arena and Leeds Beckett and University venues. We're thrilled to be working again with researchEd – they really are at the cutting edge of that research informed approach to teaching and they'll be sharing insights with us on their latest Hot Topics. Each lunchtime you can take part in one of our Big Debates: a real chance to drill down into the biggest issues, and hear a range of views on controversial topics which face teachers and the wider education system right now.
I'd like to thank NatWest for their support, which will help us to inspire every delegate to take renewed rigor into their classrooms and the wider education sector, ensuring that every child receives the best possible education."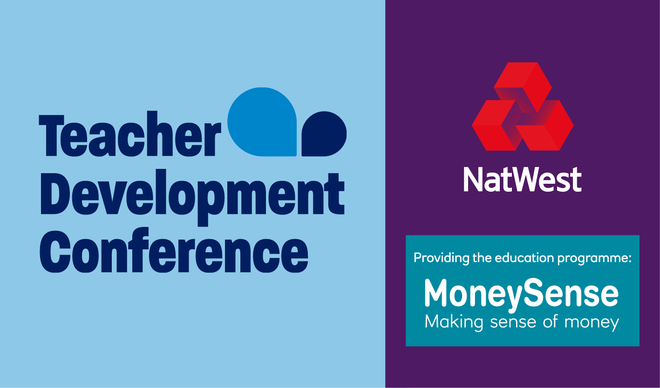 Kirsty Britz, NatWest director of sustainability said:
"We're proud to be supporting the Teachers Development Conference. At NatWest we think it's important to teach young people about money so they are financially capable in the future. Research revealed that more than half of 7-15 year-olds don't know enough about money*. That's why we've been running our free and impartial financial education programme, MoneySense, for over 22 years. 
Our flagship financial education programme for 5 to18 year-olds is linked to the curriculum, has received the Financial Education Quality Mark and is accredited by Young Enterprise (formerly the Personal Finance Education Group).  Easy to use, interactive and fun, MoneySense provides everything you need to teach young people about managing money in a real and relevant way. We offer downloadable lesson plans for teachers, as well as classroom workshops delivered with the help of our enthusiastic volunteers. 
Our partnership with Teach First underpins our ambition to be the leading bank supporting financial capability, as well as demonstrating our commitment to improving financial literacy among young people. NatWest MoneySense resources will empower Teach First teachers to champion financial education in their host schools."
NatWest have already helped 4.5 million young people learn about money, and by the end of 2018, they aim to have helped a million more.
Register at mymoneysense.com/natwest for all you need to get started right away.