Today we're delighted to be celebrating a record-breaking year, as 1,735 trainee teachers start training in schools serving disadvantaged communities across England and Wales.
These teachers will work in over 750 of our partner schools supporting an estimated 300,000 children over the next two years. This comes at a time when schools face tough teacher recruitment challenges, as the number of pupils and the size of classes continues to grow.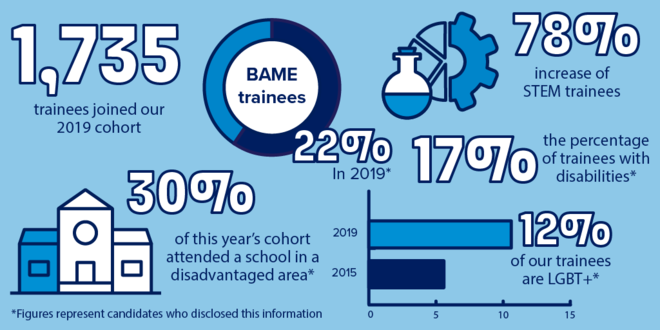 We're really excited that this year marks the most diverse group of teachers in our history, as we make strides to make sure our training programme is at the forefront of developing a teaching workforce as diverse as the pupils in today's classrooms. We have:
Grown the proportion of BAME trainees to 22% of this year's cohort, compared to 15% in 2015;

​

Doubled the proportion of LGBT+ trainees, making up 12% of this year's cohort, compared to 6% in 2015;

​

Increased the number of trainees with disabilities, making up 17% of this year's cohort, compared to 9% in 2015;

​

Increased the proportion of trainees who changed career to join Teach First, making up 30% of this year's cohort, compared to 22% in 2015;

​

Grown the proportion of trainees who themselves attended a school in a disadvantaged area, making up 30% of this year's cohort, compared to 16% in 2015.

​
We have also significantly increased our number of trainees teaching subjects which schools most need. We have:
Grown the number of STEM trainees to 505, up from 283 last year - an increase of 78%;
Nearly doubled the number of Modern Foreign Language trainees to 95, up from 48 last year.
To achieve this in a tough recruitment environment, we made a number of successful changes. This included redoubling our efforts to highlight the huge rewards that come with joining the profession and targeting our advertising and social media to trainees in specific subjects and from a more diverse pool.
We also reviewed each stage of our recruitment process to improve the overall applicant experience, increasing feedback and face-to-face assessment of candidate potential. While there was no magic bullet, our targeted changes meant we saw more high quality applicants than ever before and more who stayed in the application pipeline all the way through. 
Russell Hobby, CEO of Teach First said:
"With schools finding it tough to recruit new teachers, especially in disadvantaged communities, it's the pupils who suffer. So we're delighted to have bucked recent trends with our record breaking year of quality trainees. All teachers, whatever their route into teaching, are on the frontline of changing lives; unlocking the potential in our young people.
"But with pupil numbers rapidly rising, this isn't 'job done'. We're striving to make sure our teachers of the future truly reflect the diversity of the communities they serve. We know there are more people out there from all walks of life who could build a rewarding career in teaching and we're determined to find them.
"If the next Prime Minister wants the country to thrive, we need serious action. This means pledging to increase school funding, protect the pupil premium, and urgently address teacher starting salaries and workload. If we get this right, we can change the tide on teacher recruitment and retention, to change the direction of children's lives."
Including this year's cohort, we have trained and placed over 14,000 teachers in communities where they could make the biggest difference. Our alumni now include nearly 60 headteachers and over 2,000 teachers in middle and senior leadership positions.
The 1,735 trainees are currently completing a five-week summer training residential in universities and schools, before starting at one of our partner schools in September. They will teach a reduced timetable in year one while they work towards becoming a fully qualified teacher and gaining a postgraduate qualification in year two. They are supported throughout their two years by Teach First, a school mentor and a university tutor.