Time to teach? How to change your life in a year 
Picture your working year ahead – do the words 'predictable', 'unfulfilling' or 'boring' spring to mind? If you've answered yes, this article is for you.
Even more so if you're one of the 1.1 million people who have always thought about teaching and never made the leap….
Last year we launched a pilot teacher training programme called Time to Teach. It was designed specifically for people changing career to teach. You learn on the job, qualify in two years and get paid from day one (even through the summer holidays). You'll work in a school near you, and crucially – know that you're working in a school where you can make the biggest difference.
But detail aside, the key thing is that this programme will change your life. It'll be hard, but you'll be entertained, challenged and every day will be different. To give you a sense of what's involved - here's how the next 12 months could play out for you.
Jan – April: Apply and prepare
Time to Teach keeps popping up, so finally you give in and a closer look at the programme details. You check your eligibility, talk it through with your nearest and dearest, and decide to take the plunge and submit your application.
We don't hang about - you'll hear back from us within 10 working days. And if you meet our criteria you'll be invited to a selection day at our Development Centre. A little daunting, but it's a non-competitive day that helps us to see if you have the qualities and potential we're looking for in a great teacher. You'll do individual and group tasks and your very own recruiter will be on hand to help you prepare beforehand.
Within a week we'll let you know how you got on. If you've been successful - you'll be made an offer to join the programme (congrats!). Next, you'll go to a school interview (don't worry we'll help you prepare for this too) to make sure where we've placed you is a good fit. We'll need you to do some admin before you start - you'll complete some additional online tasks, get a DBS check and work closely with us to make sure you've got all you need to start. It seems like a lot when it's written down – but all told it should only take a few hours.
All the while, you'll start telling your friends and family your exciting news. Then you'll hand in your notice (ignoring the raised eyebrows…) and wonder about the kids you'll teach and start to imagine how different and fulfilling your new life will be.
April: Your first term as a trainee teacher
This is it – the start of your new career. We call this first term a "supernumerary term". It's a term where you'll ease into the classroom at a more comfortable pace.
It begins with some introductory learning with your fellow trainees; things like child safety, lesson planning and behaviour management. Then you'll go straight into school. You'll shadow teachers and observe lessons at the start, then gradually build up to a 60% timetable of teaching as your experience and confidence grows. You'll attend some seminars in a local uni and have access to a mentor in your school, as well as a member of staff from Teach First, to support you during the entire duration of the programme.
You'll enjoy a paid week off in May for half-term, start building friendships with your inspiring colleagues and, best of all, get to know the kids; understanding their unique challenges and beginning to see their potential.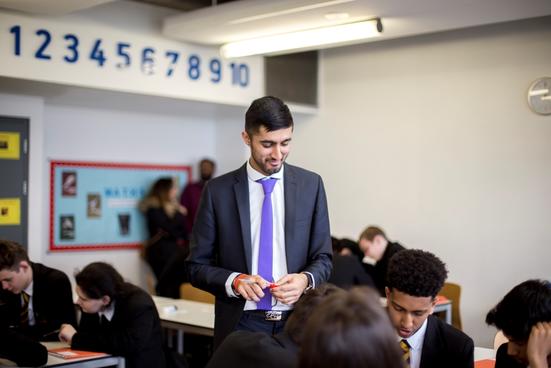 Summer: A six-week paid holiday
Yes, you heard us right. After just one term in the classroom you'll get your first summer holiday as a trainee teacher. Fully paid. And no training during this break is required.
September: Your first full school year begins
Refreshed after your six-week break, it's time to knuckle down for your first full academic year. Your teaching timetable will go up to 80% at this point and you'll be allocated your own classes. It'll be busy and intense and you'll be knackered a lot of the time, but you'll begin to see the fruits of your labour. And you'll see how the skills you gained during your previous career gives you an advantage in terms of bringing your lessons to life and, in turn, getting the most out of your pupils.
You'll also spend a couple of weeks observing and teaching in another local school to broaden your experience. All with the continued support of your school mentor and dedicated Teach First contact.
And by January next year…
You'll have hit your stride. You'll still make mistakes, but you'll now know that making mistakes – and learning from them – comes with the teaching territory. The highs are becoming more frequent and you'll enjoy working in such a supportive and positive environment. You'll scream your heart out at sports day and shed a secret tear when one of your pupils gets the grade they never thought they could.
And you'll realise that the last year of your life has been full of these small, unexpected and joyful moments that were never part of your career until now. It's been hard at times but you can say for sure that 2020 was the year that changed your life.

For now, Time to Teach is available in Bradford, South Yorkshire and Greater Manchester for those interested in teaching science, English or maths.
If you'd like the next 12 months of your life to look and feel something like this, find out more about our Time to Teach programme.