Our academic mentors made tremendous impact on pupils - here's how
As our Academic Mentoring Programme draws to a close, we're celebrating how our mentors have helped disadvantaged young people bounce back from the pandemic.
Our academic mentors have now reached over 103,000 this academic year. All of them are leaving a lasting impression on the young people they've worked with.
We're so proud of everything they've achieved on the programme and impact they've had on the schools and communities they serve. In what's been an extremely testing 18 months for many, our academic mentors have risen to the challenge. We've heard some incredible stories of the work they've been doing to help children bounce back from the disruption caused by the pandemic.
Who are our academic mentors?
Fairness is at the heart of everything we do at Teach First; we believe everyone deserves equal opportunity to access a good education. The Academic Mentoring Programme was created to help children engage with lost learning as a result of COVID-19. In this way, providing a fair education for all has never been more important.
Our data shows that 40% of academic mentors already have qualified teacher status (QTS), with 60% non-QTS, illustrating how our mentors come from a range of experiences.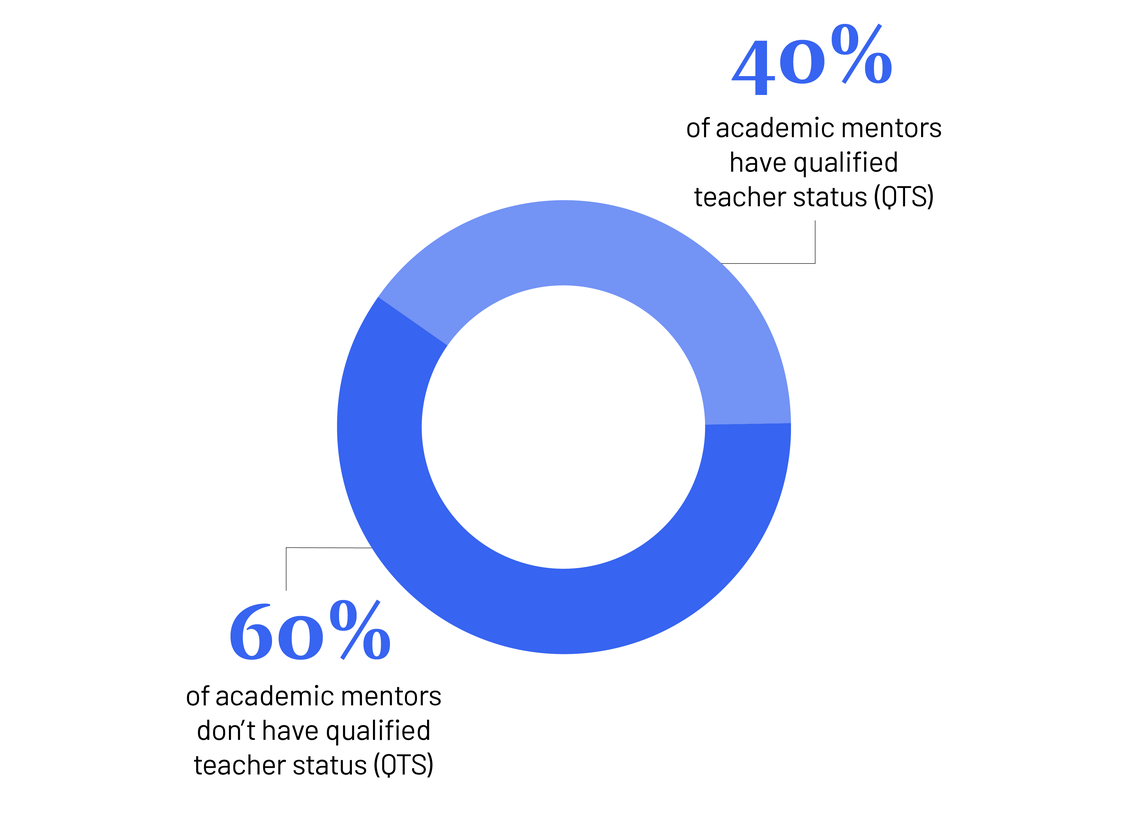 What subjects do our academic mentors specialise in?
Our academic mentors specialise in the following subjects, with the percentage of the total cohort: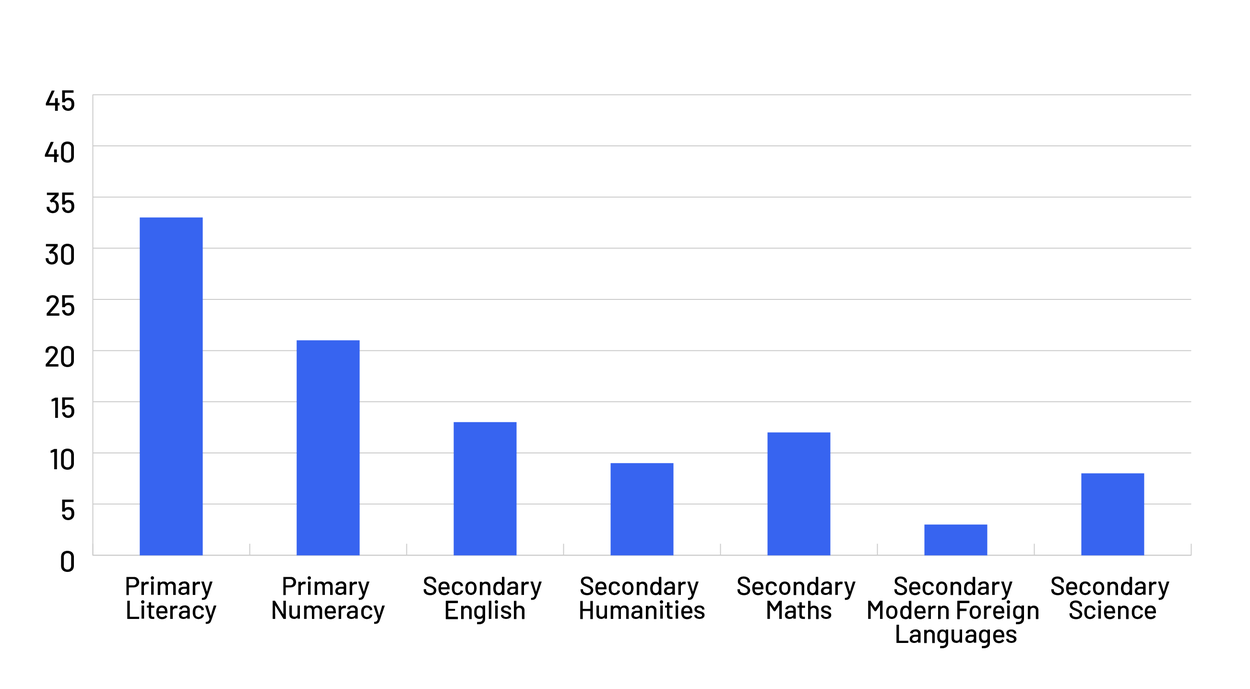 Where are they mentoring?
Our academic mentors have been placed in the following regions, with the percentage of the total cohort: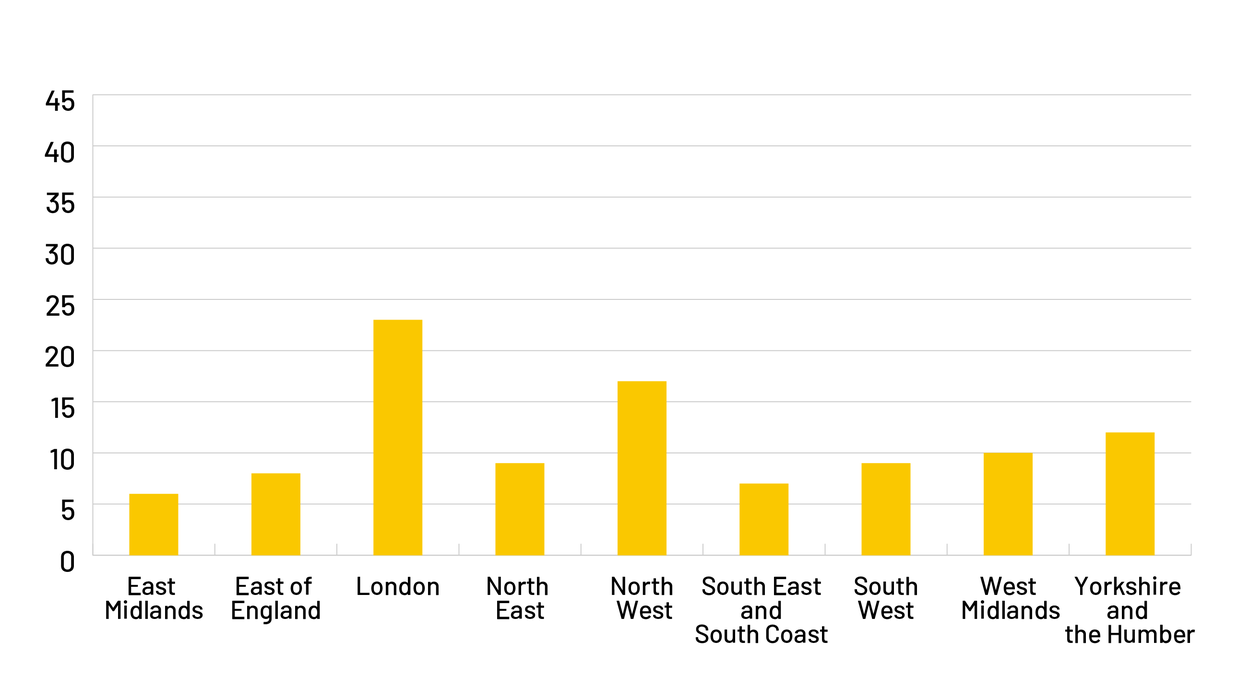 Our mentors are cultivating students' passion for STEM subjects
Over 41% of academic mentors work in STEM subjects (science, technology, engineering and maths). This is a fantastic outcome, considering there is a critical shortage of STEM teachers in state schools, which creates an unfair disadvantage for children from low-income backgrounds.
Warwick Smith has been working as a Primary Numeracy academic mentor at a school in Suffolk. He's now joined our Training Programme to continue his Teach First journey. Whilst mentoring, Warwick worked with a small group of Year 5 pupils who came to him every day for intervention sessions. He used his passion for maths to support one child in particular, who's working at a very advanced level in his GCSEs. Due to the pandemic, the pupil was at risk of being under-stimulated. Warwick spent an hour and half a week with him exploring GCSE syllabus concepts and applying them to the real world.
"I like to be able to show him things like maths puzzles and investigations, which use concepts that are intrinsically related to what you'll learn at GCSE but are separate from it, just to keep that sort of fascination alive," says Warwick. "I think it's so important for all learning if you can be fascinated by the subject, then you can always succeed.
"I think that's important for me, and I know he enjoys it greatly too. Which makes me enjoy it even more."
Diversity and inclusion on the Academic Mentoring Programme
Teach First is committed to tackling injustice. To achieve this, it's crucial our work reflects the communities we serve. Our decisions will be better because of it, whether it's with our programmes or employees.
Rhiana Hughes has been working as a secondary English academic mentor at a school in Sheffield. Starting in lockdown, she worked closely with a vulnerable student with autism. The student was not able to interact with class teachers she'd had for years, which is something individuals with autism can often find difficult.
After returning to school, Rhiana worked with the student through one-to-one sessions, and helped her engage more with learning.
"I had a lovely phone call from her mum that left me in tears," says Rhiana. "She told me that it's the first time her daughter's been excited after a lesson. She wouldn't stop talking about [it].
"In part, that's down to the fact I'm a mixed-race woman, and as a mixed-race child herself she was able to see herself in me. It's something that's so important to me. To be able to see yourself in someone, whether it's your teacher or a celebrity.
"I know where I grew up, I'd never had a teacher that looked anything like me. There was barely anyone that looked like me on TV. So, for me to be able to come into the school and be a comfort for somebody is great."
Rhiana has now joined our Training Programme and will be staying in the same school where she worked as an academic mentor.
Another of our secondary English academic mentors, Ali Al-Jamri, created his own poetry anthology as part of our Missing Pages campaign. He used texts which reflect the balance of gender and different ethnic backgrounds and heritages of pupils at school.
"Because it's a particular interest of mine, I've done poetry classes with high achieving children and I'm also going to be help run the creative writing club in the next half-term," says Ali.
What's next for our academic mentors?
Teach First will not be a delivery partner in the National Tutoring Programme after this year. However, as we absolutely want to see this programme succeed to ensure pupils from disadvantaged backgrounds continue to benefit from this support, we will be providing transitional advice and guidance to the new provider for a short period of time.
All queries regarding 2021/22 should be directed to Randstad at academicmentors@randstad.co.uk. Please note that Teach First will not be able to give advice on the 2021/22 programme.