Teach First's Mental Health First Aiders
This Mental Health Awareness Week, Sammy Baylis shares how Teach First's mental health first aiders became the first point of contact for employees in distress.
When I started my career in HR, I was expecting my time to be filled with payroll queries, interviews, and employment law. I was surprised to find that over half of my case load related to wellbeing support.
The NHS states that 1 in 4 of the population will have a mental health condition at some point. The Stevenson Farmer review revealed that 15% of employees have symptoms of an existing mental health condition, with more people at work with experiencing these difficulties than ever before. As these conditions gain prominent public awareness, more and more companies are incorporating initiatives to safeguard their employees. From flexible working hours, to health insurance and even on-site yoga classes, mental health provisions are a fast-growing feature of the modern-day workplace.
Teach First takes a holistic approach to mental health and wellbeing, practiced every day through our company culture. In my work as an HR advisor, we cultivated a culture that encouraged employees to speak openly, and bring their whole selves to work. We have effective and considerate policies in place to support decisions needed for wellbeing. We have an Employee Assistance Programme and health insurance. But we needed to do more than be nice to each other and put policies in place.
What is a mental health first aider?
Enter the Mental Health First Aid England programme. This initiative started in Australia and gradually spread across the world, reaching the UK in 2006. Being a mental health first aider comes with a range of responsibilities, including reducing stigma around mental health, improving knowledge about symptoms, and having a clear action plan to assist someone that might be developing a mental health issue, or in crisis. One of the most important factors of the training is the focus on research and evaluation, with all the course content as evidence- based as possible.
I trained as a mental health first aid instructor to ensure that Teach First was in the best place to support as many people as possible. During work life week in October 2019, we officially opened applications for our employees to volunteer to become mental health first aiders. I already knew how much we all cared about mental health but was touched when we received over 50 applications.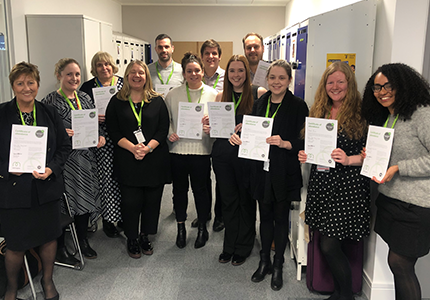 Our mental health first aiders are trained to be the first point of contact for employees experiencing a mental health issue or emotional distress. Staff can also approach a mental health first aider if they have any concerns about a colleague's mental health or wellbeing. Our first aiders are available for an informal and confidential chat and can assist employees if they need further support from within the organisation, for example via their line manager, HR or our EAP service. They can also point you in the right direction for external professional support, for example an individual's GP or counselling.
The impact of mental health first aiders on employee wellbeing
We delivered our first round of training in early 2020, and now have 29 mental health first aiders within Teach First based all over the country, in different departments and at different levels. We want our first aiders to represent every part of our organisation. Even if they only ever have one conversation each, that might be 29 conversations that have helped someone. Below is some feedback about the initiative:
"The training was interesting, useful and really well delivered. It was really useful to be able to speak about this with other colleagues in an open forum and take away tangible things to do and share with my team" - Teach First mental health first aider
"Thank you so much for your understanding and support recently. It has made an extremely difficult time slightly easier. I have especially valued you looking out for me - whilst giving me space. Offering information and advice - but being keen not to overload me. And genuinely wanting to be led by me and knowing that what I most need may change one day to the next. You've all said to me 'I'm just doing my job' or 'being a good manager/colleague' but it's meant such a lot and you wouldn't find that everywhere. Thanks so much." - Teach First employee, after receiving help from a mental health first aider at work
The first aiders have a network where they can come together and champion the programme. They are passionate about reducing the stigma associated with mental health, and to help us to normalise those conversations every day.
Teach First and mental health
Beyond supporting employees, is the programme directly connects to what we stand for as a charity. Approximately three children in every classroom have a diagnosable mental health disorder. Half of all mental health problems manifest by the age of 14.
The resolution to these mental health challenges might come from the next generation. It might come with teaching children how to look after their mental health, by modelling positive coping strategies, and by being able to recognise the signs and symptoms in our children (which is a whole other training course) - but we as an education charity must lead by example.
It's still early days, but with the onset of COVID-19, the timing of this initiative has never been more necessary. The first aiders pulled together content for mental health awareness week (virtually, of course), and when we all went into lockdown, they proactively reached out to others to keep those vital social connections going during such a difficult time.
Teach First doesn't want to stop there. We want an equal number of mental health first aiders to our 54 physical first aiders, so we're opening applications again this Mental Health Awareness Week to achieve that target. We are all looking forward to getting back to work, completing round two of training, and having even more colleagues trained to spot the signs and symptoms of mental health challenges. But until that time, we are going to keep raising awareness, keep talking to each other, and most importantly, keep caring.