Get to know the Class of 2020
Read more about the staff of Bedford Academy, as we follow their journey to rebuild from the challenges of this year.
On 20 March 2020, the COVID-19 pandemic forced Bedford Academy – along with schools all over the country – to close their doors. Almost 1,200 pupils were sent home, many without the things they needed to learn in the months ahead. We're following the school as they rebuild from the challenges caused by those lost months.
Get to know the staff of Bedford Academy as they navigate this unprecedented school year - including a number of Teach First trainees who've stepped into classrooms only very recently - below:
Chris Deller, Headteacher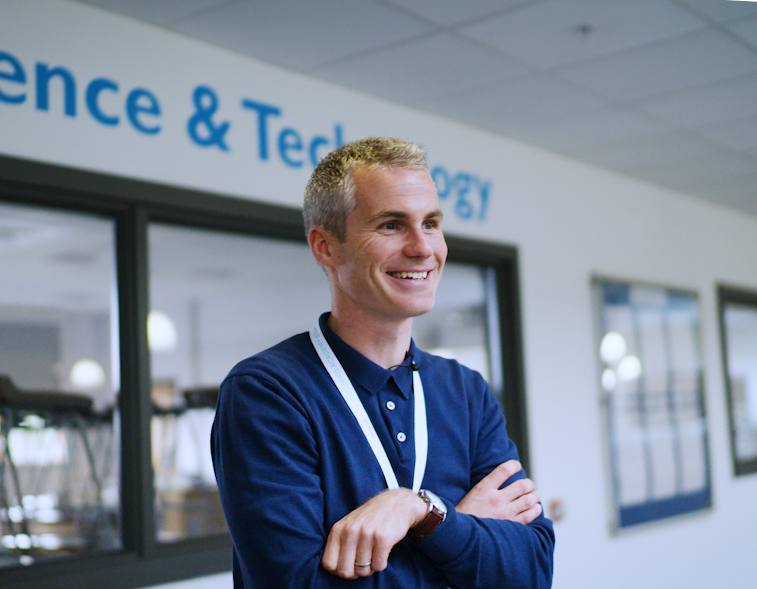 We heard about lockdown on the Wednesday, put plans together on the Thursday and shared the news on the Friday.
We then started to look at our remote learning policies to see how we were going to try and get information to the students missing out on their education. That was real our focus, as well as looking after the vulnerable students. We had a list of probably 75-80 students that had special educational needs, or needs beyond the classroom, that we needed to support.
One of the first things we did during lockdown was find out which students did or didn't have access to IT at home. We handed out around 85 laptops. We focused on breaking down barriers to learning and providing every student – no matter what their setting – with the same level of access. 
We also did a lot of food deliveries. It was probably around 850 bags filled with non-perishables. Everyone helped deliver them – the site team, admin team, the senior leadership team – it was a real team effort. 
We know some students had done a lot of work and some have done very little. That's the challenge – to get that work ethic back into them, pushing that drive and aspiration. It's the subject leaders' and subject specialists' job to identify the gaps and support them. Whether that's through homework, catch up clubs, enrichment or setting work online, it's our job as educators to do that. Like with any plan, it's going to evolve over the weeks and months.
Sheeren Mee, English trainee teacher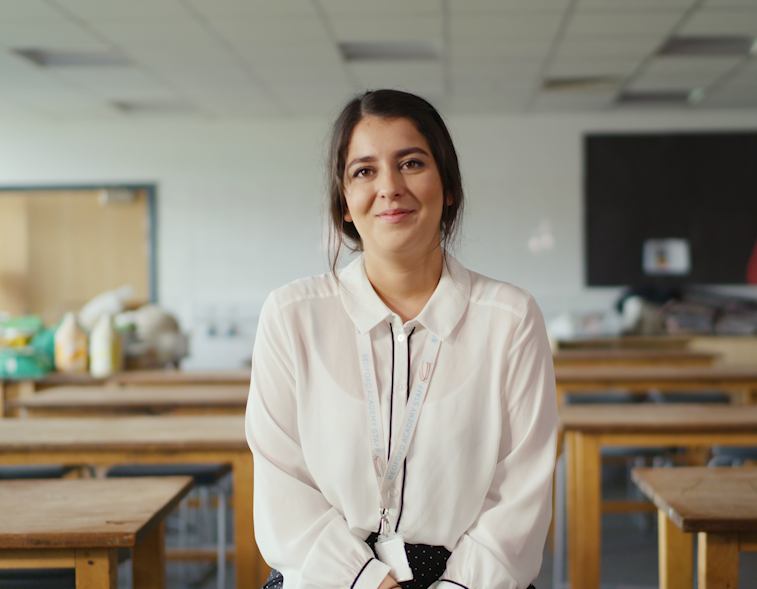 What did you want to be when you were growing up?
I wanted to be an archaeologist until I was around 17. Then I got into politics, which is what I did my degree in. When I finished, I realised I loved the English side of my degree the most, and I enjoyed mentoring and tutoring. When I found Teach First it felt like a perfect match.
How did you find out about Teach First?
My boyfriend's lecturer mentioned Teach First in passing. We both ended up applying, but my boyfriend didn't know I had applied, and I didn't know he had applied. We actually did Summer Institute together, and it was weird! But also good, because it meant we had each other for support.
How did you find training to teach during a pandemic? 
When I got the offer it made me think, 'What's this going to look like?' And everything we learnt in Summer Institute was followed with, '…but, of course, COVID-19…' There was a lot of uncertainty. I knew I was still going to do it, but I did have a few moments, like, can I learn to be a teacher in a pandemic, in an area I don't know?
How have you found teaching after lockdown?
It's been a mixed bag. At times I've really beaten myself up and I think, 'I don't know if they've actually learned anything,' but then the next class will have remembered everything from the previous lesson.  When I come into the school gates each day I think, 'Oh my gosh, I'm a teacher…' It's really good, I'm enjoying it.
James O'Connor, Maths trainee teacher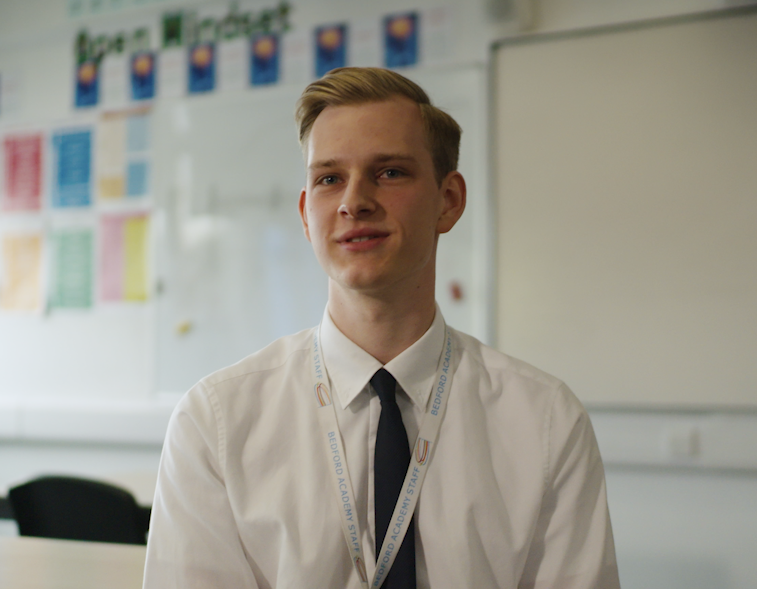 How did you get into teaching? 
I was studying psychology and didn't really know what I wanted to do afterwards, but teaching had always been at the back of my mind. When I saw the opportunity to do Teach First, I liked the idea of jumping straight into the classroom – essentially you get dropped in at the deep end, and I liked that. I felt as though it would suit me quite well.
What was school like before lockdown? 
There was a lot of anxiety about what was going to happen – we had no idea. Teachers were anticipating the shutdown of schools, but we didn't know when it was going to happen.  I was just trying to prepare the kids for what they should be expecting, with the plans that the school had put in place.
What did you do during lockdown?
I'd go running occasionally in the morning and then sit down at 8:30am to get my work set up. At first we set work daily, but then a couple of weeks in we changed it to every week because we thought it might overwhelm the kids. But I'd still be there every day, I'd always have my emails open. I wanted to be there and be present when the kids needed me.
How did lockdown impact you as a new teacher? 
My mentor and university tutor agreed with me that when lockdown came, I had just started to come into my stride a little more. I think it would have really benefitted me to have seen out the rest of that year. It was a bit frustrating.
How have you found going back to school?
It's been nice. Since I haven't taught for almost six months, I was bound to be a little rusty, but I'm very happy to be back. It's nice to have all the kids back as well. They've all settled in really well. The first thing I did was meet my form and reassure them, let them know what was happening. I made sure there were no lingering questions about what was happening so they actually understood where they could go and what they had to do.  
This isn't life on pause. This isn't the new normal. This is the Class of 2020: