Creating a culture of limitless potential for pupils
Grace Academy Darlaston has partnered with Teach First for over a decade, with a vision of developing well-educated, considerate and caring young people.
The school is part of the Tove Learning Trust in Walsall, in the West Midlands of England. It currently has two trainees from Teach First amongst their teaching staff and eight ambassadors who have gone on to take leadership and mentoring roles – one of whom has been at the school for over seven years. We spoke to the Assistant Principal, Ruth Scrivens, about the school's decade-long partnership with Teach First.
"One of the key factors that motivated us to work with Teach First was their ethos on providing quality teachers and the structure it offers," she says. "You get good teachers who want to be here, and you have your own input to help shape them as a teacher."
Grace Academy Darlaston's organic approach to teaching and learning is closely aligned to the Teach First Training Programme. The pedagogy runs alongside what trainees are learning through the PGDE and they're implementing those teaching strategies straight away.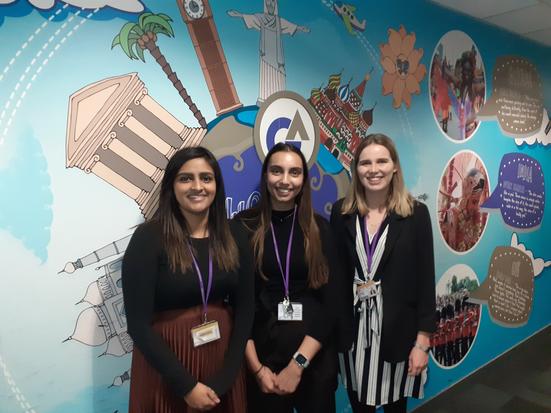 "We've continued to recruit and retain Teach First teachers at the academy as they've always been a resilient bunch," explains Ruth. "They're very strong-willed and hungry to progress, and have really taken their opportunities to develop into great teachers.
"We've seen a significant improvement over the years with support from Teach First trainees and ambassadors (former trainees). They've also had a positive impact on the school with their work on interventions to support students with health and mental wellbeing. Setting up regular breakfast sessions and opportunities to build up self-esteem has in turn supported students academically in the classroom.
We've continued to recruit and retain Teach First teachers at the academy as they've always been a resilient bunch.
"We believe that all our students at Grace Academy Darlaston have limitless potential to succeed. Through this partnership we've gained support for teachers and access to free GCSE pods, teaching materials and examples of best practice. All of this has helped to raise the aspirations of pupils in Year 10 and 11 who are behind their peers in terms of attainment but still have the potential to come out with good grades.
"I'd highly recommend Teach First to other schools considering it as a recruitment route and encourage them to embrace it. Trainees come with passion and incredible spirit. You can really see them flourish and take up more opportunities being offered to them, with a positive long-term impact on the school."
If you're looking to recruit and train new teachers for your school and think you might be eligible to partner with us, get in touch with our team.