Nikhil talks about changing nappies and training to teach
Parenting while training to be a teacher is a challenge but entirely possible. Nikhil tells all.
Nikhil Kapila knew changing career to become a teacher was going to be a challenge – a rewarding and exciting one, but still a challenge. And that challenge went up a level when his wife gave birth two weeks after he began his training. But does he regret jumping in the deep end with a baby? Not a chance.
You don't like to do things by halves Nikhil – new career and new-born at the same time. Were you frightened about dealing with two life-changing events simultaneously? It wasn't exactly perfect timing! At first, I was quite apprehensive about how I was going to combine fatherhood with my new job, but my fears have never materialised. I'm not saying it's been easy, particularly in the evenings when you have a mountain of work and still have to fit in dinner, bath time, story and bed! Nevertheless, it's manageable.

Has being a dad helped you become a better teacher? You actually end up being more efficient at getting the work done during the moments available to you. There have been moments where I wasn't sure whether I was able to continue with my training, particularly when you have assignments to do, planning to do, marking to do, moderators coming to the school, and then lessons to teach on top of that. But you get through it because you take one thing at a time and you prioritise. You realise there's only so much you can do, and you're still able to make a difference.

And have your classroom skills come in handy at home? Being a teacher has helped me set boundaries with my child from an early age. I understand that many of the behaviour issues at school are borne out of a lack of discipline at home.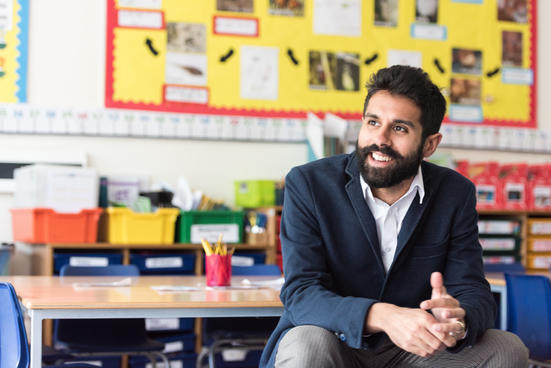 You had a pretty amazing job before, don't you miss it? I worked at the House of Commons as a parliamentary researcher for David Davis for three years and I enjoyed the job immensely. I'm very passionate about politics. But teaching is a wonderful career path. It is something that gives you so many different skills that are transferable in so many other workplaces. And there's so much difference that you can make to the lives of young people.

Weren't you worried about leaving a good job to go back into training, especially since you had another mouth to feed? I haven't really experienced many problems or issues in my mind about changing roles or taking a pay cut. One of the advantages with Teach First is that you get paid a salary from the start, and your training is funded. Through a lot of other programmes and schemes that support isn't there.

So, what's your advice to other people thinking about changing careers? Go for it. Schools are an incredibly fast-paced, dynamic working environment, and there's no better workplace. A place where no one thing is the same and no day is the same. You learn so much from the children around you, from other staff, from their families.

If you're interested in changing career to teach, and want to see how that could fit in with being a parent, take a look at our Time to Teach programme. Developed to suit the lifestyles of people with commitments, Time to Teach is a fully salaried programme where you won't need to spend time training. Currently running in Greater Manchester, South Yorkshire and Bradford for STEM eligible candidates.