Charlotte, Bilal and Grace are among the students at universities around the UK who've discovered that being a Teach First Brand Manager is much more than your average student job – and one that's definitely worth holding onto.

Like all our Brand Managers, they work for us part-time at their universities, raising awareness of Teach First and helping make sure the most disadvantaged children in the country get the education they deserve.

And these three have already decided they want to be Teach First Brand Managers next year too.
Charlotte: "It's so much more rewarding than my previous jobs"
"I've decided to stay in role as a Brand Manager because it's helped me get more immersed in university life, rather than pulling me away from it like some other part-time jobs," says Charlotte, who's studying history at the University of Liverpool. "It's incredibly flexible around my studies and I get to work on my own professional skills.
"Being part of a small and supportive team of Brand Managers who celebrate successes and deal with failures together is so rewarding. I've learned more about teamwork in the past year than in any of my three previous retail jobs.

"This job offers excellent pay as far as part-time jobs go and it also gives you so much to talk about in interviews and at assessment centres. You have genuine responsibility, which makes your efforts not only worthwhile but interesting and diverse which, for me, is something other part-time jobs lacked.

"During my second year in role I'm going to work on my weaknesses, like public speaking, and really push myself outside my comfort zone. The good thing about Teach First management is the focus on personal goals, and it feels like your time and unique contributions are valued. You can develop your own areas of weakness while making a valuable contribution, so it's win-win."

Bilal: "It's about being part of something"
"I've thoroughly enjoyed my first year of being a Brand Manager. It's one of the best jobs I've ever had, so I didn't have to think twice about staying on for a second year," says architectural engineering student Bilal, from the University of Leeds.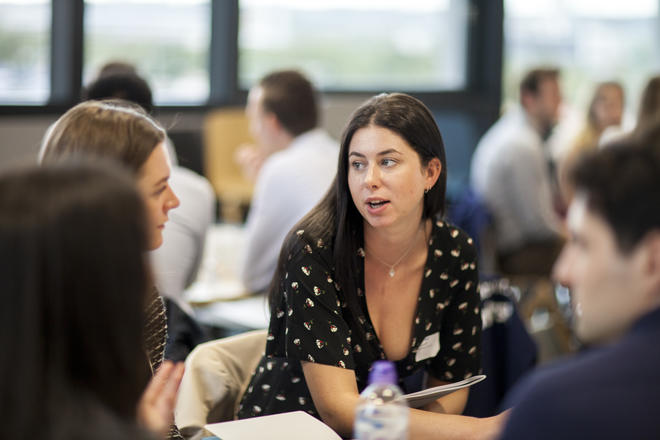 "I first heard about the Brand Manager role after attending Teach First's Taster Programme in my first year of university. After Taster, I knew I wanted to continue working with Teach First and I saw this as the perfect opportunity.

"I'd encourage more students to take on the Brand Manager role as it's not like any other job. Being a Brand Manager allows you to work around your university timetable, and not a lot of jobs offer this type of flexibility. It's also more highly paid than other student jobs.

"Being a Brand Manager isn't just about having a part-time job – it's being a part of something, part of a bigger picture; knowing the work you're doing at your university is contributing to a bigger cause, ending educational inequality. Since I first came across Teach First in my first year of university I've gained so much interest in and respect for the charity."

Grace: "I've learned skills that are valuable for any career"
"I've decided to continue as a Brand Manager next year because I really have no reason to stop!" says Grace, who's studying psychology at the University of Birmingham. "The most rewarding thing about being a Brand Manager is being able to implement your own ideas and seeing them in action.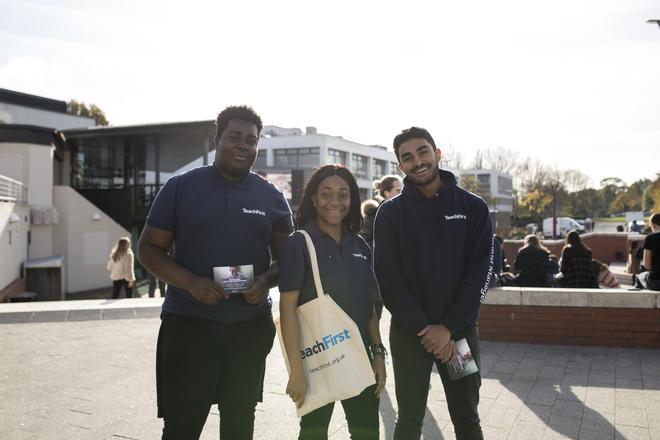 "The main skill I've learned as a Brand Manager is to be confident. At school I would never have dreamed of standing in front of a group of people and speaking but, within my first few months as a Brand Manager, I had given a lecture shout to a room of over 200 people. Through being a Brand Manager your confidence in public speaking and in your own ideas grows as you constantly have the chance to push yourself and to have your ideas heard and appreciated. I know my newfound confidence and communication skills will help me professionally in the future.
"Whatever career I end up in, these are valuable skills that will always be relevant. The Brand Manager Programme has also allowed me to challenge myself to do things I never would have done before – such as going alone to volunteer for a week at Jamie's Farm – one of Teach First's partners.

"What makes being a Brand Manager fun is the close-knit team, all working towards the same vision. The role is so varied and every day is different, and that is what I've found so exciting about it. One week I would be hosting a round of the pub quiz and the next week giving out pick 'n' mix."