A Problem Shared: "Seeing them [succeed] made me believe I could too!"
They say a problem shared is a problem halved. We caught up with ambassadors Charlotte, Chris and Jamie to hear how staying connected has enriched their lives.
Our ambassador community is a powerful force for change, made up of talented teachers and leaders – in schools, education and beyond. By connecting, they unleash a world of opportunities for each other to learn, influence policy, support schools, and ultimately create the change our society desperately needs.
This week, we caught up with Teach First ambassadors Charlotte Pywell-Fryett (Education Associate at Skills Builder Partnership), Chris Coles (Humanities Teacher) and Jamie Douglas (Principal Operational Research Analyst at the Department for Work and Pensions). Here's how they've stayed connected since meeting.
Before you first met, what kind of help you looking for?
Charlotte: I just like talking to people, and especially love talking about education. I have a tendency to just chat to people and think poor Chris and Jamie were on the receiving end of this!
Chris: At that point, I hadn't even walked into a classroom yet - I think I was looking for reassurance that I'd made the right decisions.
Jamie: I was looking for ways to continue my involvement with the TF ambassador community in the North East. 

 
How did you find each other?
Charlotte: I actually can't remember. Isn't that terrible! I think I met Chris at a Teach First conference. I think Jamie responded to a call I put out asking for Ambassadors to support with putting on a conference in the North East and support getting some young people to visit London. 
Chris: I first met Charlotte and Jamie at the 2017 Teach First Welcome event - they'd been ambassadors for several years and I was just starting my Teach First journey.
Jamie: I think I first met Charlotte at an event when Ndidi Okezie came to Newcastle to speak to ambassadors, and I've subsequently met Chris on a project Charlotte has let looking at an ambitious Free Schools offer in the North East.
What were your first impressions of each other?
Charlotte: They are so much cleverer than me! Jamie has analytical skills, whereas I am big picture. I remember giving a talk and Jamie gave some great stats, whereas I told a story. Chris is so calm and level headed. I can be a bit of a whirlwind. 
Chris: I was blown away by how much they had done in education - I was a bit in awe.
Jamie: It is impossible not to be impressed by Charlotte's enthusiasm and passion for giving all children a fair start in life through education, while my first impression of Chris was "thank god we've got a regional voice in this group"!
What do you think they made of you?
Charlotte: A little bit crazy, but hopefully that my heart was in the right place. 
Chris: I hope they were able to see the passion and eagerness that I had to get into the classroom.
Jamie: Old, so old.
Describe them in 3 words
Charlotte: Clever, committed and values-driven. 
Chris: Intelligent, dynamic and compassionate.
Jamie: Passionate, enthusiastic and committed.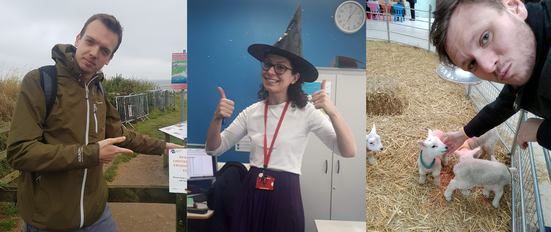 How has connecting with them helped you?
Charlotte: We have run several projects together in the North East. We took a group of children from the North East to London, fundraising and organising the trip. We also put on an unconference. They have skills that I don't have. That said, the biggest impact that they have had on me is just the fact that I can be part of a supportive, likeminded, inspirational network who make me think, support me to keep going and keep me values focused and driven. 
Chris: It was so motivating and inspiring to see others enacting the vision I shared with them - seeing them made me believe that I could do it too!
Jamie: Charlotte has helped me remain connected to the TF ambassador community in the North East, and together with Chris we have been able to get involved in exciting projects such as the Free School initiative. 
How do you think you've helped them by connecting with them?
Charlotte: I hope that they feel supported and know that they have a friendly face at the end of the phone, no matter what the situation. 
Chris: I hope that it's been encouraging them to see how they can inspire others.
Jamie: I fear that too often I bring horrible pragmatic realism to discussion, but hopefully I bring a perspective from outside education, different professional skills and an extra body.
What's the most interesting thing that you've learned about them?
Charlotte: Oh gosh! Chris does a great explorer impersonation at a school open evening and Jamie knows the best places to eat in Darlington. 
Chris: I think Charlotte has lived in more or less every European country at one point or another.
Jamie: Charlotte thinks only of how to enrich the lives of others.
How are you hoping to support each other going forward?
Charlotte​​​​​​​: We are currently working on a project together which requires a lot of trust and a myriad of skills. Chris and Jamie bring so many skills and are key people in this project. 
Chris: By working as a team, it's possible to overcome pretty significant barriers that might seem daunting at first - the key is communication and asking for help when you need it.
Jamie: I hope that Charlotte is able to continue bringing people together, it seems to be what she does best, while Chris continues to help us understand the local context in the north east. 
If there were other ambassadors looking for help, what would you recommend them for?
Charlotte​​​​​​​: Chris has great pedagogical knowledge and really cares about children. He will research anything needed. Jamie knows data and governance. Both of them will inspire you to keep going and both will ask critical questions. 
Chris: There are so many people out there that can help you to make a difference - just take every opportunity that comes your way!
Jamie: Networks, I don't think anyone knows as many ambassadors in the North East as Charlotte, so if you want to know someone who could help you with something she's the person to talk to!
And lastly, who would play them in the movie of their life?
Charlotte​​​​​​​: Eddy Redmayne comes to mind – clever, dignified and a little bit quirky. 
Chris: Saoirse Ronan - let's be honest is there anyone she couldn't play?
Jamie: Minnie Driver and Bob Mortimer.
As an ambassador community, we can achieve so much more together. We can support each other, innovate and influence education across the country. Simply put, we make greater strides together in making education fair than we can alone. That's why it's so important to make sure that you're still connected to the ambassador community.  
To avoid missing out on a unique community and everything we've got planned in the next year and beyond, head to connect2.teachfirst.org.uk/update. It only takes a few minutes but makes an enormous difference to our community. Together, we'll take even bigger steps forward to building a fair education for all.