A Problem Shared: Yansé and Jess
They say a problem shared is a problem halved. So we caught up with ambassadors Yansé and Jess to hear how staying connected has enriched their lives.
Our ambassador community is a powerful force for change, made up of talented teachers and leaders – in schools, education and beyond. By connecting, they unleash a world of opportunities for each other to learn, influence policy, support schools, and ultimately create the change our society desperately needs.
This week, we caught up with Teach First ambassadors Yansé Cooper (Attraction Associate at The Difference and MFL Teacher at Ark Academy) and Jess Boyd (Director of Participants at Teach For All). The pair met while attending Summer Institute. Here's how they've stayed connected since.
Before you first met, what kind of help you looking for?
Yansé: Fellowship, support and a sense of adventure to undertake ruffle feathers in the name of the social justice
Jess: Like-minded people who want to do some good in the education system.
How did you find each other?
Yansé: Thrown into the same time and (kitchen) space during our residential Summer Institute.
Jess: During unofficial drinks at someone's flat during Summer Institute.
What were your first impressions of each other?
Yansé: Joyful, confident, and highly unbothered.
Jess: She's fun.
What do you think they made of you?
Yansé​​​​​​​: Maybe loud? Maybe posh?
Jess: Haha no idea! 
Describe them in 3 words
Yansé​​​​​​​: Brilliant, grounded, sage.
Jess: Honest, bold, powerful.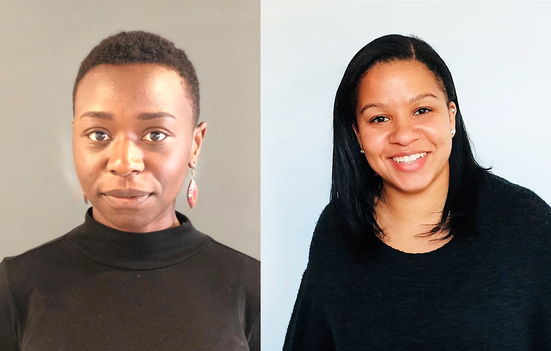 How has connecting with them helped you?
Yansé​​​​​​​: The BAME Network and Community wouldn't exist without her hard graft, wisdom and interpersonal skills. She helps me structure my thoughts and has given me confidence and a greater awareness of myself.
Jess: I now have a dear friend who I can turn to on pretty much anything, from professional advice to pep talks before an interview or after a crap day.
How do you think you've helped them by connecting with them?
Yansé​​​​​​​: By making her laugh (at) with me?
Jess: I'd like to think she's listened to a few of the pep talks I've given to her too.
What's the most interesting thing that you've learned about them?
Yansé​​​​​​​: That she's a multi-instrumentalist and a MASSIVE GEEK.
Jess: That she's a force not to be reckoned with.
How are you hoping to support each other going forward?
Yansé​​​​​​​: Lifelong and life-sustaining friendship.
Jess: Forever my reference on any new application, and now a dear aunty to my son.
If there were other ambassadors looking for help, what would you recommend them for?
Yansé​​​​​​​: She's a great networker, she has profound knowledge about racial inequality, she's skilled in curriculum design and also gives great hugs.
Jess: Coaching, improving teaching practice and navigating diversity and inclusion challenges.
And lastly, who would play them in the movie of their life?
Yansé​​​​​​​: Lisa Bonet.
Jess: Viola Davis.
As an ambassador community, we can achieve so much more together. We can support each other, innovate and influence education across the country. Simply put, we make greater strides together in making education fair than we can alone. That's why it's so important to make sure that you're still connected to the ambassador community.  
To avoid missing out on a unique community and everything we've got planned in the next year and beyond, head to connect2.teachfirst.org.uk/update. It only takes a few minutes but makes an enormous difference to our community. Together, we'll take even bigger steps forward to building a fair education for all.