Working mum wisdom: how life can teach you to overcome great odds
On International Women's Day, Teach First's Director of Fundraising reflects on being a working mum, and using life experiences to adapt to challenges at work.
I love being a parent. As a proud, working mother of two, my daughter (eight) and son (10) enrich my life in so many ways: they test and reward me, surprise and frustrate me and add a whole new dimension to my life.
Like many, I find being a working parent tricky. You have to balance drop-offs, pickups, homework, concerts and extracurricular activities with meetings and emails. And of course, between all of this you need to make sure there is time for you – the person keeping all the plates spinning. I feel like I am doing a relatively good job of finding that time for me. Teach First recognises the importance of flexibility, and as a leader in the organisation, I am more than happy for my team to adjust their working hours if it means they can attend their favourite exercise class, volunteer with their local charity or attend their child's school concert.
This is one of the reasons why I love working for Teach First. It is a progressive organisation that appreciates we all have lives beyond our work, striving to ensure we can strike a balance: in turn, this helps us become excellent at our jobs. What I have learned is that making the most of all your experiences, and bringing them to your work, is vital to our success.
Here are my top tips for using your experiences to your advantage, whatever career you're in:
Find something that gets you fired up - you'll build the confidence to deal with whatever is thrown your way
My journey with Teach First started long before I became a parent. I am as passionate about making sure every single child gets a fair education now as I was 16 years ago, when I first heard of this amazing charity.
I started as a teacher trainee in the early days of Teach First. The programme was brand new as was the charity, so we were all learning our way. From day one I taught a full timetable and I had a tutor group. But being thrown in the deep end has meant I learned to swim, a skill I have gone back to again and again and again.
There is something very humbling about being responsible for the pastoral care of a class of 11-year-olds. Being a teacher means you must grow up and take your job seriously – the future of the young people you teach is literally in your hands.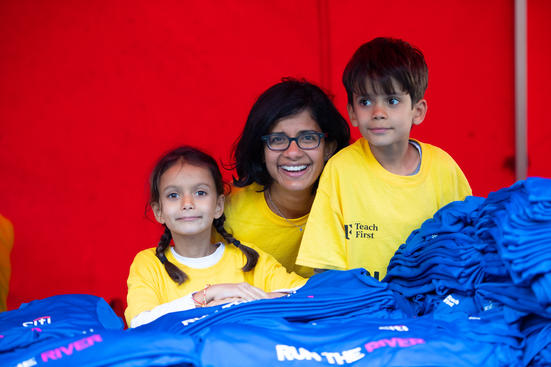 Never underestimate the impact of seemingly small actions. If you can work out what people need, they'll rise to it
I remember one of my pupils, an intelligent, fiercely spirited boy who always found himself on the wrong side of school rules. But I knew that behind the fire and bravado was an 11-year-old who wanted to be trusted and liked.
I'll never forget his face one lunch time. I asked him to run back to my classroom, unlock the door, go through my desk and bring me my wallet so I could get myself some lunch. He grew two feet that day and we didn't look back. His grades improved, his behaviour for my classes was impeccable.
Today, he runs a successful tailoring business suiting and booting the good and the great. Being a part of helping him become the man he is today was an immense honour.
Get to know your strengths and those of the people around you
Moments like this have been pivotal for me ever since. I am good at taking a step back and listening to what people around me are saying. In all my jobs since then, when working with the teams I manage, I ask myself: what this person is good at? What does success look like for them? What is my role is in supporting them to get there?
Now, I have the privilege of leading the fundraising team at Teach First, who are all superbly intelligent and fiercely spirited. We work with many prestigious funders, including the DHL Foundation, The Huo Foundation, Garfield Weston and Citi, who recently donated a whopping US$1million from their E for Education campaign. Working in fundraising isn't for the faint-hearted - but we succeed together when we really listen to each other.
Choose an organisation that aligns with your values
In my role I often find myself in situations where it feels like I'm sinking. But I must remember: I can swim! My teaching experience has set me up well for this.
Being a working parent is also a part of who I am – I want to use this to be a good role model for my team, to show them that being both good at your work and being a good parent is possible.
I also love the fact that my children understand my work. They see that it is about making sure that all people their age have great teachers, that a good education shouldn't depend on whether you live in an affluent neighbourhood but is something that should be open to every child.
They love that "Mummy helps makes sure all the children in England are learning their best". Them valuing what I do makes all the juggling worth it.