Our impact on the lives of the UK's poorest children
Millions of British children live in poverty. Only one in three is likely to achieve basic school grades. Yet twice as many of their wealthier peers do so.

Since Teach First was founded as a charity in 2002, and with the generous backing of our supporters, we've been challenging this unacceptable inequality.
Evidence shows that our work has already had an impact on the lives of over a million children living in low-income communities, and the benefits are being seen nationwide as we now work in every region of England, and in Wales.
But, like the students we support, we always want to learn more, so we have been gathering evidence of what works, so we can continue to make our work more effective.
Our training is improving results for children...
Independent research has shown that schools partnering with Teach First have improved their GCSE scores.
"We've been working with Teach First for seven years. The difference they make is huge."

Headteacher, West Midlands

A student in a school that has partnered with Teach First will improve their GCSE results by one grade overall.
...and we are lifting standards of entire departments and schools
The same independent research has shown that Teach First-trained teachers are raising the standard of teaching in their departments. Headteachers and Ofsted inspectors agree that our teachers are also raising the standards of schools as a whole.

​
After partnering with Teach First, underperforming school departments improved their GCSE results from 9% lower than others' in the same school to 16% higher within two years.
"Many of the schools in which [Teach First] has placed participants have improved markedly, sometimes from an Ofsted evaluation of Inadequate to one of Outstanding for overall effectiveness. Headteachers of these schools are convinced that Teach First has been one of the crucial elements of that improvement."

Ofsted
We now work throughout England and in Wales
We have played a leading role in London's educational transformation. In recent years we've been moving our focus away from urban areas to address 'social mobility cold-spots' – communities that are poorly-served by education and other services.
We now work with schools in every region of England and in Wales, driving high-quality education in communities where it's needed most.
Placement of Teach First trainees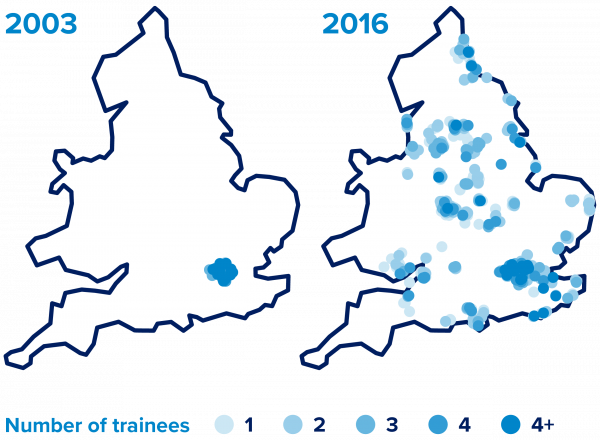 ​
"How do we prise more successful teachers away from the cities and into more isolated areas? …When it came down to it, I returned to the fact that the young people here deserve a better deal."

Tom Beveridge, former Teach First trainee, now Head of The Dean Academy in Lydney, Gloucestershire
More of our teachers work in low-income areas
Our teachers and partners are committed to working towards a day when no child's educational success is limited by their socio-economic background.
That's why our trainees are much more likely to work in schools in low-income areas, and a very high percentage choose to continue doing so even after completing our two-year training progamme.
66% of our former trainees who are still teaching work in schools serving low-income communities, where recruiting teachers is the hardest.
"Loads of my pupils still can't believe I grew up in Peckham, just like them."

Laurell Milton, former Teach First trainee – now deputy head of English at Harris Academy in Peckham, London
After three years in teaching, Teach First teachers are twice as likely to teach in schools where at least 55% of pupils receive / are eligible for free school meals, compared to teachers from other training routes.

​
---
Our teachers become leaders
Strong leadership is crucial for improving challenging schools, and allowing every child to flourish. We support our former trainees to progress to school leadership positions.
By encouraging and supporting our teachers to take on responsibilities and senior roles once they complete their training, we are building a movement of effective leaders committed to ending educational inequality.
Of teachers who began training in 2008...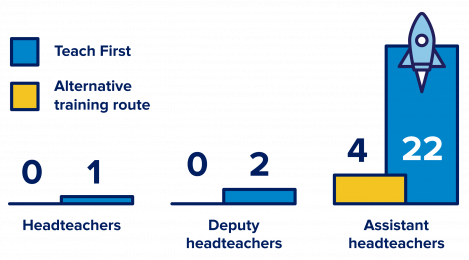 Independent research shows that former Teach First trainees are seven times more likely to be in senior leadership positions in schools than teachers following other routes into teaching.
"There are so many leadership opportunities for the right people with the right ideas, and you're really pushed and supported to succeed."

Fiona McGregor, former Teach First trainee – now Assistant Principal at Thomas Hepburn Community Academy, Gateshead
Our trainees sometimes have fluid careers
Some of our former trainees leave teaching to work in other sectors and enrich their experience after completing our programme.
But we are seeing high rates of these teachers returning to the profession, bringing with them valuable knowledge and expertise from outside the classroom.

​
Of the 28 headteachers that have come through the Teach First scheme, more than a third have returned to the profession after gaining experience elsewhere.
"I realised that, if I wanted to have the greatest possible impact on children's lives, I needed to go back into teaching and switch to the primary phase, because this is where you can really shape the whole course of a child's educational journey."

Mei Lim, former Teach First trainee – now headteacher at Weyfield Primary Academy in Guildford
Of our former 2003–2010 trainees who are currently still teaching, 20% have spent time gaining experience outside the classroom

---
We are creating a movement of leaders across all areas of society
We know teachers alone can't tackle educational inequality, which is why we need leaders across all areas of society.
We offer programmes, which have now benefited hundreds of former trainees, in areas such as education policy, charities, social enterprises and research.
Through this ever-growing network of leaders, we are building a movement of people who are pushing for change across the education sector and beyond.
"My experience in the classroom – and as a school governor – has been really valuable, providing me with motivation and perspective of what you're trying to achieve and helping teachers to do the best possible job."

Patrick Curry, former Teach First trainee – now Deputy Director of the Education Funding Group in the Department for Education
Giving careers and employability education the kudos it deserves
Young people don't just need to know the options available to them when they leave school – they need access to expert careers advice that gives them the knowledge and skills to match their ambition.
By training middle and senior managers, Teach First's Careers and Employability Leadership Programme is helping to transform careers provision in schools.
"The programme completely opened my eyes to how I – and everyone at the school – can best support our pupils to think practically about what they need to do to reach their full potential after they leave us. The school's entire careers programme has been completely revolutionised."

Non-Teach First teacher who took part in our Careers and Employability Leadership Programme
69% of businesses think secondary schools aren't effective at preparing young people for work.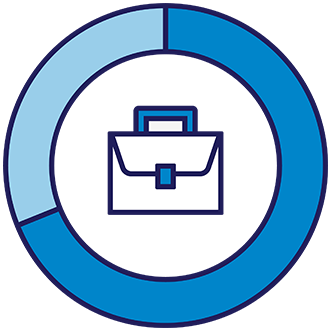 ​
---
Our Futures programme is helping children to fulfil their potential when they leave school
There are many barriers to post-school success besides getting good exam results. Through our Futures programme, we help disadvantaged young people to navigate the many options open to them after leaving school, and improve their chances of progressing to higher education.
We enable young people to make informed decisions by matching them with our trained mentors who can offer advice and practical help with university applications.
"You can imagine my surprise when my Futures mentor suggested I apply to Oxbridge. But it began to seem like a real possibility when I was given the opportunity to visit Oxford to gain a real experience of life at university. So I applied and I got the place!"


Sara Harb, Futures programme mentee – now a student at Oxford University
Breaking the cycle of disadvantage

By working with thousands of brilliant teachers, schools, universities and partners in England and Wales, Teach First has helped countless young people like Sara to achieve their ambitions.

But, to reach the day when no child's future is limited by their background, there is so much more to be done.
"I don't think there is any other country where a grassroots organisation had such a profound impact on raising teacher professionalism than Teach First in England."

Andreas Schleicher, Director for Education and Skills, Organisation for Economic Co-operation and Development (OECD)