Our next chapter
When it comes to a fairer society, education is critical. We've taken great strides in the last 16 years, working in partnership with others to improve it in the UK.
Today, our teacher training is rated the fourth most prestigious graduate career route. We've supported over 10,000 talented people to teach in disadvantaged communities, and 60% remain in teaching today.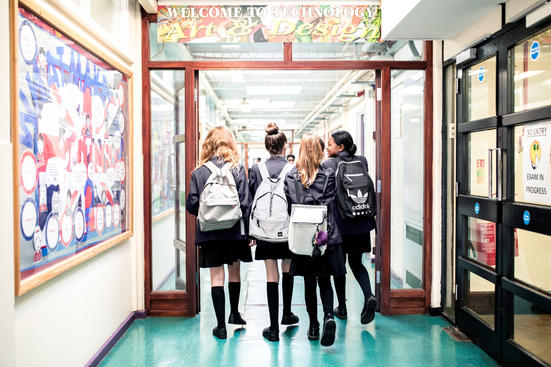 Our first chapter was about opening teaching to new people and inspiring them to make a lifelong commitment to end educational inequality. This belief that great teaching changes lives remains at the core of our work. But the challenges schools face have grown and changed and we're changing too.
The challenge
Pupil population is rising fast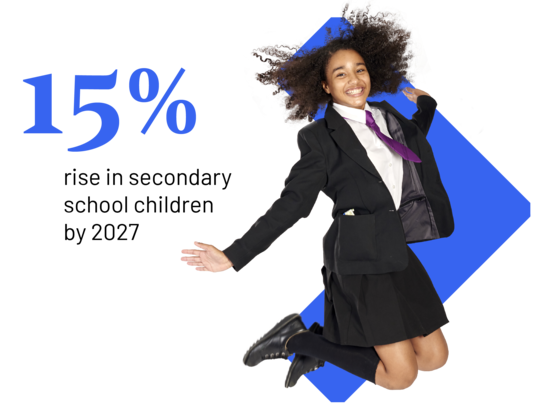 The number of pupils in secondary schools in England is predicted to grow by 15% from 2018 to 2027. This means 418,000 more pupils in secondary state schools by 2027 - more than are currently in the whole of London.
 
There simply aren't enough great teachers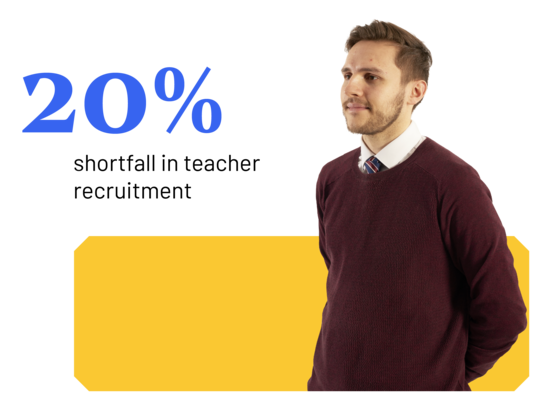 In England today, one teacher leaves the profession for every one that joins. The rise in pupil numbers makes this even more urgent: last year, the number of trainees recruited across all routes was 20% below target.
It's the children with the least who miss out the most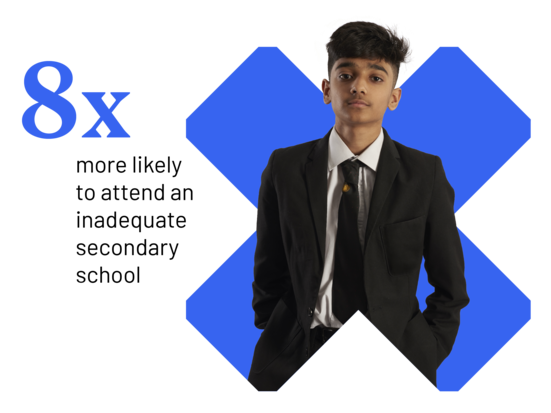 A child in one of the most deprived areas is eight times more likely to attend a secondary school rated inadequate than a child in one of the least deprived areas. 
Schools in disadvantaged areas find it harder to recruit teachers, and teachers in these schools are also more likely to leave: a study found that secondary teachers at schools in the most deprived areas were 70% more likely to leave than those in the most affluent. Research also continues to show that while the home environment is important, a great teacher can transform a child's life prospects.
The unavoidable truth: teachers need a better deal 
Our report Britain at a crossroads identifies four key areas of improvement for the teaching profession. We are determined to address these issues, working hand-in-hand with others.
1. A fair workload, not loads of work
Not only is teacher workload significantly higher in the UK than in other countries, but it's also teachers' biggest concern. A Department for Education survey showed that over 70% of teachers leaving the profession cited workload as the main reason.
2. Teachers need progress at work too
According to research we conducted with ComRes, a fifth of teachers considering leaving the profession would be more likely to stay if they had access to quality Continuing Professional Development (CPD).
3. Teachers need flexibility
The next generation of workers wants to fit work around other priorities. Research suggests most workers younger than 40 expect flexible working options.
4. Pay matters
In a 2017 National Audit Office survey, headteachers cited cost of living as the second biggest barrier to teacher retention, and salary and benefits the fourth biggest.
Our new strategy 
Our next chapter sets out how – with your support – we will help two million pupils and succeed in our mission to transform education with great teachers and leaders.
We're addressing challenges head on by: 
1. Getting more great teachers in the schools where they're needed most
We will continue to recruit large numbers of new and recent graduates onto our programmes and improve the training we deliver to them. But we will also draw on other promising talent pools - ex-teachers and career changers.
Ex-teachers: a dormant force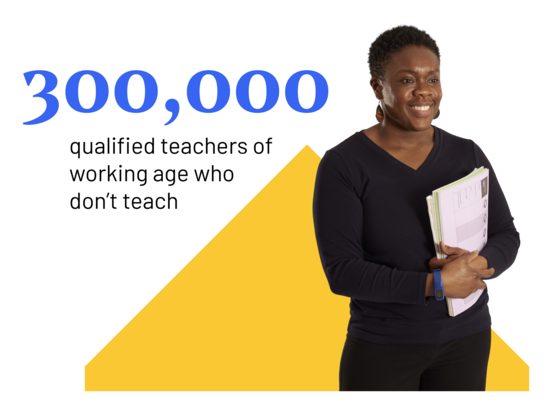 Around 300,000 qualified teachers of working age are not teaching. If we can remove some of the barriers, our research shows that 20% of them may return. That's 60,000 teachers back in the classroom.
We've launched a pilot programme called Reconnect with Teaching, to help qualified teachers get back into teaching by finding flexible roles in supportive schools.
Tempting people from other careers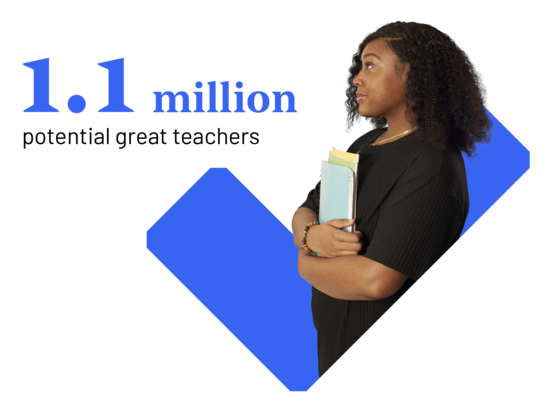 Research we commissioned suggests that up to 1.1 million degree-holders over 25 would consider a career in teaching. We've launched a pilot programme, Time to Teach, which tailors our world-class training and support to fit the needs of those switching careers including a salary from day one.
2. Support school leadership so our teachers and pupils thrive
Reaching our vision that no child's educational success is limited by their background will not happen by recruiting great teachers alone. Our work with schools, and their feedback, has taught us that teachers succeed and want to stay in the classroom when nurtured by supportive, visionary and determined leadership. We will work in partnership with schools to focus on school leadership at all levels.
Stronger leadership teams
Our Leading Together programme supports schools to build and sustain effective leadership across the whole school. Through expert training, coaching and partnering between schools, the two-year programme helps school leadership teams develop and sustain an environment where all teachers and pupils can thrive.
Career progression in school leadership
Our School Leadership programmes help individual teachers progress to become school leaders. It provides access to research-based leadership training and accredited National Professional Qualifications (NPQs).
3. Support schools with strong networks and a positive policy environment
There are now more than 1,750 Teach First trained middle and senior leaders and more than 40 headteachers. Many of our alumni are doing valuable work through social entrepreneurship, government, business and more to influence the future of education.
As the community hits the 10,000 mark, now is the time to change how we work with them.
We will empower our alumni to run their own initiatives and connect with schools, prioritising our resources where, together, we can have more impact than we can alone. 
Informed by our community and research, we will use our voice to influence policy and remove the hurdles pupils, teachers and schools face. Our alumni are doing valuable work through social entrepreneurship, government, business and more to influence the future of education