World Book Day: 10 outstanding children's books by ethnic minority authors
Compiled by parents, teachers and pupils from across the country, here is a selection of their favourite children's books written by ethnically diverse authors.
At Teach First we believe the books taught in schools should reflect the many perspectives and backgrounds that make up our country's diverse population. Our recent Missing Pages report revealed that a child can finish school without reading a single book by an ethnic minority author.
Encouraging young children to read more diversely is an important first step in that journey. But finding the right books can be difficult. This World Book Day, we asked teachers, parents and students for their favourite children's books written by ethnic minority authors.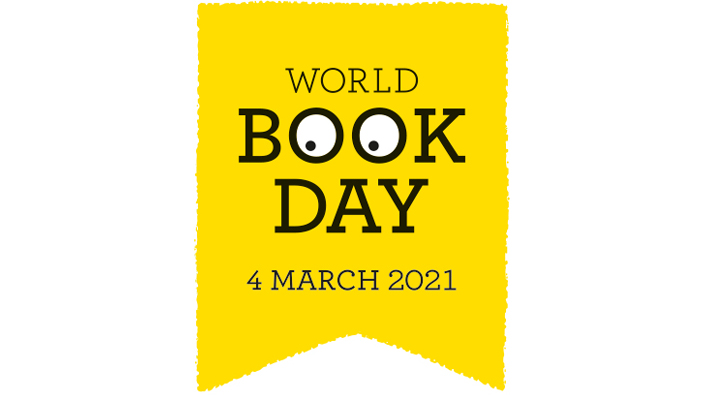 Little Leaders: Bold Women in Black History by Vashti Harrison
Our history books are filled with stories about inspirational leaders, but many stories remain widely untold. Little Leaders features 40 biographies of African-American women that helped shape history. Harrison's book is full of stunning illustrations that bring to life the stories of both iconic and lesser-known female figures of black history. Vashti Harrison (born in 1988) is a writer, illustrator and filmmaker based in Brooklyn, New York. Her films and other artworks are rooted in Caribbean heritage and folklore.
Ria, aged 10, told us why she loved Little Leaders: "I really love this book because it teaches you about the women you don't learn about in school."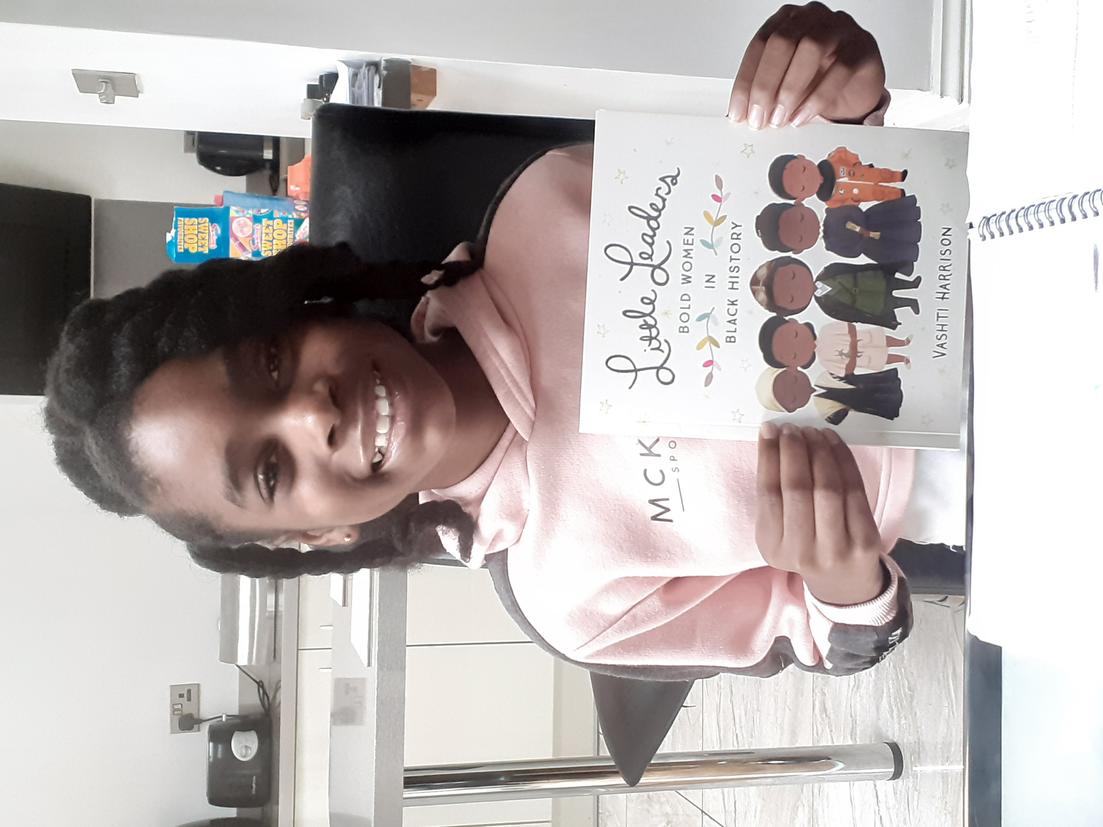 So Much by Trish Cooke (illustrated by Helen Oxenbury)
Anybody that's had a baby sister or brother knows that the baby is always the centre of attention. Nowhere is that more true than in So Much. As a string of relatives come to visit a Mum and her baby, the day unfurls into a colourful and joyous party. Trish Cooke brings to life the dynamics of a family with something to celebrate, with joyful text illustrated with warm and colourful images by Helen Oxenbury.
Ballerina Dreams by Michaela DePrince (illustrated by Ella Okstad)
Michaela DePrince was born in 1995 in Sierra Leone. After the deaths of her parents, she moved to an orphanage, from which she was adopted and taken to the US in 1999. Elaine, her new mother, noticed her love for ballet and allowed her to begin lessons - which was the start of Michaela's journey to becoming a professional ballerina. Ballerina Dreams is an inspiring true story that shows us the importance of working hard and believing in your dreams.
Lauren, aged 8, told us: "I liked the part when she goes on stage and does a split jump in the air and she perseveres, like me!"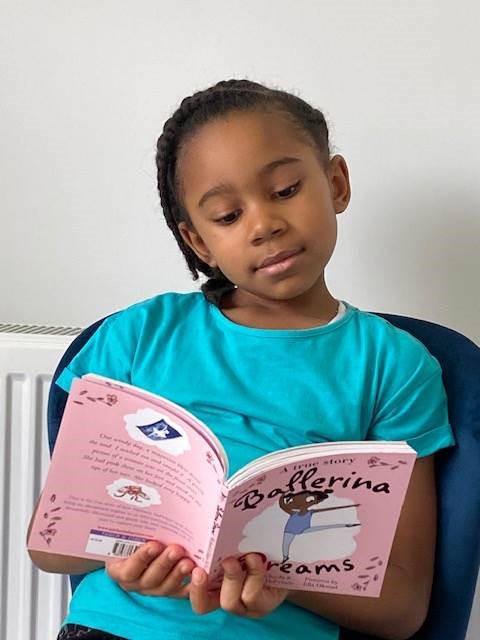 Sam Wu is NOT Afraid of Ghosts by Katie Tsang and Kevin Tsang (illustrated by Nathan Reed)
Sam Wu is NOT scared, and it's his mission to prove it to all of his friends - and especially the school bully. A mishap on a school trip to the Space Museum sets off his mission to convince the world he is a fearless adventurer. Sam Wu is NOT Afraid of Ghosts is a hilarious and sensitive story that teaches us all how to deal with our fears. Get ready for twists and turns in this stirring adventure that will leave you feeling braver than ever!
Anisha, Accidental Detective by Serena Patel (illustrated by Emma McCann)
Anisha is excited to be the bridesmaid at her Aunty's wedding tomorrow – after all it is the "wedding of the year"! Things take a turn when she finds a note telling her the groom has been kidnapped, and won't be released until the wedding is cancelled. Serena Patel takes us along with Anisha on a hysterical, fast-paced journey to save the wedding. Can she solve the mystery?
Look Up by Nathan Bryon (illustrated by Dapo Adeola)
Everyone wants to be an astronaut when they grow up, right? Rocket certainly does, and she's determined to bring her brother Jamal on her intergalactic exploration with her. But to do that, she needs to convince him to look up from his phone and towards the stars. Look Up is an inspirational and energetic story that tells us to get off our phones and start to wonder about the world around us.
Elizabeth, aged 5, told us why she loved this book: "I like this book because I learnt about space at school and love the shooting stars."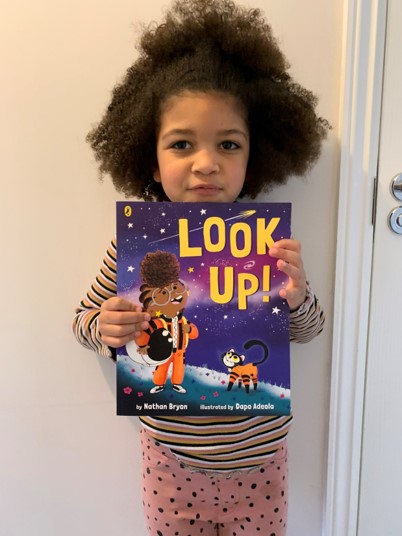 Sleep Well Siba and Saba by Nansubuga Nagadya Isdahl (illustrated by Sandra van Doorn)
Are you always losing things and wondering just where on earth they have gotten to? Siba and Saba certainly are - except when they lose things in the day, those things reappear in their dreams. Until one day, they realise their magical dreams might not be quite what they appear. Nansubuga Nagadya Isdahl's book is a magical bedtime read that is sure to light up your imagination.
I Am Every Good Thing by Derrick Barnes and Gordon C. James
Do you ever find yourself wondering, 'who am I?' The confident narrator of this book answers that question by proudly telling us about all of the good things that make him who he is. I Am Every Good Thing is a powerful and life-affirming story that reminds us that heroes aren't just in Hollywood movies, but are everywhere around us. Read it and you might just learn more about some of the many good things that make you who you are.
The Boy at the Back of the Class by Onjali Rauf (illustrated by Pippa Curnick)
Being in a new class can be a difficult and scary thing. The Boy at the Back of the Class tells the story of how a group of children try to befriend the new boy Ahmet. Their task is made harder as Ahmet rarely speak, or smiles. When they find out that he is a refugee who's fleeing a war, and feel like none of the adults can help him, they hatch a daring plan that takes them on an extraordinary adventure. This book is a heartfelt story about the importance of hope, friendship and kindness.
My Friend Jen: A Little Different by Jenica Leah (illustrated by Aditya Permana)
We all want to boast to the world about our best friends - and that's exactly what Jen's friend does! Along the way, we find out that "there is nothing that my friend Jen can't do, but on the inside, she's a little different to me and you." As the story unfolds, readers discover Jen has sickle cell anaemia, which is where author Jenica Leah gently guides young readers into coming to terms with disease. This book tells a beautiful story, and raises awareness of a serious health condition in a fun and informative way.
More recommendations
The world of children's books isn't limited to the list above. Our community of teachers, parents and students had ideas for books for all ages. Some further, excellent book recommendations include:
Anna Hibiscus by Atinuke (illustrated by Lauren Tobia)
Sulwe by Lupita Nyong'o (illustrated by Vashti Harrison)
I Am Enough by Grace Byers (illustrated by Keturah A. Bobo)
Tobias the Dream Adventurer by Destynee Onwochei (illustrated by Margarita Viray)
Nimesh the Adventurer by Ranjit Singh (illustrated by Mehrdokht Amini)
Little Badman by Humza Arshad and Henry White (illustrated by Aleksei Bitskoff)
Clean Up by Nathan Bryon (illustrated by Dapo Adeola)
Lily Says No! by Kelly Eastmond-Jeffrey (illustrated by Princess Of the Most High S B S)
Hair Love by Matthew Cherry (illustrated by Vashti Harrison)
The Proudest Blue by Ibtihaj Muhammad and S.K. Ali (illustrated by S.K. Ali, Hatem Aly)
Basirah the Basketballer Says Insha'Allah by Hafsah Dabiri (illustrated by Alina Shabelnyk)
Nzingha and Saying Goodbye by Enomwoyi Damali (art by Michael Powell)
My Invisible Superhero Vest by Melissa Titre (illustrated by Jason Lee)
The Other Side by Naysa Simone Nwaogwugwu (illustrated by Marvin Mudzongo)
Recommendations for Young Adult Fiction
For a slightly older audience:
The Girl Who Stole an Elephant by Nizrana Farook
Amari and the Night Brothers by B. B. Alston
Windrush Child by Benjamin Zephaniah
The Girl Who Stole an Elephant by Nizrana Farook
Ghost by Jason Reynolds
The Coldest Winter Ever by Sista Souljah
XXIV: Unbreakable by Mekelle Angel
Clap When You Land by Elizabeth Acevado
Boy, Everywhere by A.M. Dassu
Asha and the Spirit Bird by Jasbinder Bilan
Our Missing Pages Library
Today a pupil can leave school without reading a single book by an ethnic minority author. As part of our Missing Pages campaign, advocating for more diverse English lessons, we asked the public for their recommendations of works by ethnically diverse authors they wish they'd had the chance to study at school. Take a look and be inspired to encourage teachers, school leaders and exam boards to diversity the English literature texts they celebrate: