Teaching science, maths or design and technology on our Leadership Development Programme is exciting and rewarding, it opens doors to great professional opportunities and enables you to make a crucial contribution to society.

We hear first-hand from the individuals who are making these breakthroughs every day. If you're a STEM (science, technology, engineering or maths) graduate, or have science or maths A-levels, here are three good reasons to join our Leadership Development Programme.

1. Teaching a STEM subject is exciting and rewarding
"There's a thrill in helping someone understand something that's really quite difficult… And if you can control 30 lively kids in a classroom and make them learn some chemistry there's something really quite powerful about that."

James Gilks, who completed his PhD in chemistry before joining our Leadership Development Programme as a science teacher, knows that wearing a white lab coat isn't the only way to make a big impact as a scientist. In fact, many of those who've embarked on our programme as science, maths or design and technology teachers tell us it's one of the most rewarding things they've ever done.

In the words of biochemistry graduate Hannah Fearon, who joined our programme to teach science:

"I thought, 'Well I'll do this for a couple of years and see what happens.' Then I ended up loving it so much that I stayed for two more years because I just couldn't leave."

The Leadership Development Programme can give you the skills and inspiration to turn your knowledge into lessons that really go with a bang. Just ask Claudenia Williams, who received a standing ovation from her pupils after a (literally) explosive science lesson; or Rebecca McKelvey, who recalls a parent approaching her at a parents' evening to say, "Miss McKelvey, all I ever hear about at home is your science lessons."

Whether you've got a PhD in organic chemistry like James; A-levels in science or maths; or a science-related first degree, perhaps you too will find the Leadership Development Programme one of the most rewarding things you'll ever do.


2. The Leadership Development Programme opens doors for STEM experts
"You learn a lot of interpersonal and communication skills; soft skills that are very difficult to pick up in a corporation or in large scientific companies. So your personal development will come on in leaps and bounds in a couple of years, in a way that might otherwise take you your whole career. Once you've led 30 16-year-old children, who didn't want to come with you in the first place, you can lead anybody."

After teaching science on the Leadership Development Programme, Hannah Fearon went on to become a clinical biochemist in the NHS.

Having taught science, physics graduate John McClean went to the European Space Agency before becoming an engineer at Rolls-Royce. And maths graduate Mike Wilson went on to become a headteacher having taught maths on our programme. The list goes on.

As these individuals have discovered, being a science, maths or design and technology teacher on the Leadership Development Programme opens doors for your career, whether your ambitions lay in education or in another field entirely. Many of our participants tell us our programme has helped them progress their career further faster.

We are partnered with some of the biggest employers in the UK, including leading scientific and tech firms, who support our mission to end educational inequality. In addition, our Platinum Recruitment Partners – Accenture, Google, PwC and the Royal Navy – offer exclusive support to our participants, including one-to-one leadership coaching, specialist subject support, bespoke skills sessions and internships. Recognising the skills developed in the classroom, some of our partners also offer opportunities to explore careers at their organisations, for those who choose to move on from teaching.

After the programme, Rebecca McKelvey formed her own charity, in2scienceUK, offering support to help disadvantaged pupils progress to university and STEM-based careers. She has discovered first-hand how the Leadership Development Programme can help accelerate your career:

"I formed a charity as a direct result of being part of Teach First. I really wanted to spend time supporting students who hadn't had the same opportunities as me, and I knew joining Teach First was going to open lots of doors for me once I'd finished. And that's been very true."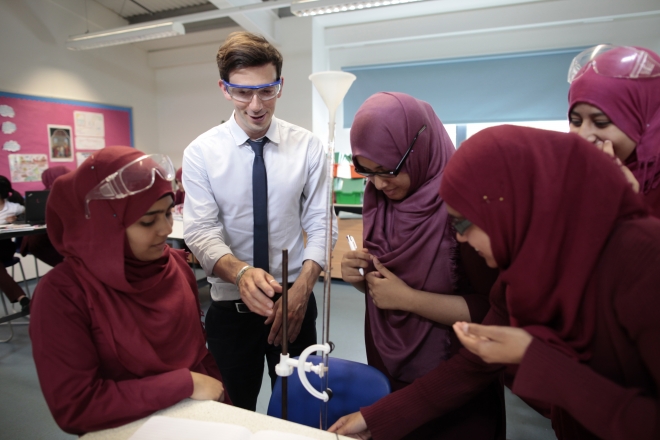 3. STEM graduates make an invaluable social contribution by joining the Leadership Development Programme
"I'm trying to create the next generation of little scientists and thinkers and makers who can sort out the massive problems of the future."

Physics graduate Carole Kenrick, who became a scientist inventor in residence at a primary school after teaching science on the Leadership Development Programme, is not our only participant to talk passionately about how crucial it is that more STEM graduates head into the classroom. She's also not the only one to talk about the job satisfaction she derives from making such an important social contribution.

And this isn't just anecdotal. The Royal Academy of Engineering (2012) says an estimated one million new science, engineering and technology professionals will be needed in the UK by 2020, and we're simply not producing enough of these experts. Part of the problem is that, according to the Association for School and College Leaders (2014), more than half of science and maths departments in schools experience significant shortages of specialist teaching staff. That's why it's crucial that more STEM graduates head back into the classroom to inspire the next generation of scientists and tech professionals.

In James Gilks' words:

"Without getting a core number of motivated, ambitious people into teaching I don't think there will be enough change. I think there's a dearth of subject expertise, especially in physics and chemistry. Young people are crying out for subject experts in their schools."

If you have A-levels in science or maths or are a STEM graduate, you could bring your subject to life in the classroom and inspire the next generation of mathematicians, scientists and tech experts – and ignite your own career prospects in the process.